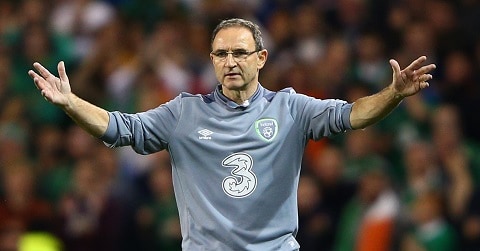 With Euro 2016 set to kick off on Friday, the Republic of Ireland's soccer team manager Martin O'Neill (above) is in hot water following a homophobic joke he made last week.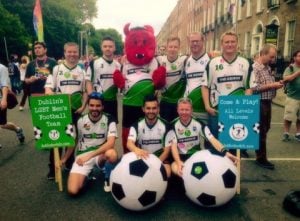 Referring to his trip to Super Bowl 50 this year, Martin said that he had taken coaches Steve Guppy and Steve Walford along for the ride so people would not think he and assistant manager Roy Keane were "queers".
O'Neill made a half-hearted apology for his comments, saying "If I have made inappropriate comments…I obviously apologise for it and I will attempt for the rest of my time here not to make such inappropriate comments. But it is a genuine apology."
O'Neill later apologized further, addressing accusations that he had appeared less than sincere. "It was inappropriate and I might turn around and say crass now at the end of the day," he said. "Almost the minute I had said it, I realized that I should not have said that, absolutely. I should not have said it. You are right to criticise me, believe it or not. Absolutely. It was inappropriate and I could not genuinely be more sorry, that's the case."
However, John McAree, the chairman of Ireland's only all-male gay football team Dublin Devils FC (above right), said O'Neill's comments send the wrong message to gay teen soccer fans:
"This is the wrong message to send to the LGBTI community a week before the Euro 2016 championships. O'Neill is an idol to many young gay teens all over Ireland. His comments will make them feel isolated, confused and different.  Many young LGBTI men and women play football at local level and support Ireland at International level.
"Many club members from the Dublin Devils will be in France next week wearing the Green Jersey supporting and shouting for Ireland. The club was disappointed to hear O'Neill's comments as they do nothing to help with the ongoing issue of homophobia in the world of football – in fact, his comments are part of the problem.
"Our sexuality does not define us in the club. We see ourselves as a group of gay men who love to watch, support and play football."
McAree added that the team hopes O'Neill's comments can be put in the past in order to "focus on getting behind Ireland and offering the team as much support and encouragement as we possibly can."
Others took to Twitter to blast O'Neill's comments.
Worst part about the whole Martin O'Neill thing is that many seem to think it's all down to "PC gone mad" or people looking for offence

— Colm O'Gorman (@Colmogorman) June 6, 2016
O Neill's "Queer" comments are part of the problem

Ireland's only all male gay football team describes Ireland… https://t.co/7aUnfQlGha

— Dublin Devils FC ⚽ (@DublinDevilsFC) June 7, 2016
https://twitter.com/cuffejohn/status/739867367677788160
https://twitter.com/davidcochrane/status/739876755603922946
Well done @jmcaree for standing up to that disappointing remark from the Irish team manager 👍🏼https://t.co/afCJKxPDmM

— Dub Dave 🏳️‍🌈 (@raifdub) June 7, 2016
Ireland will play their opening game against Sweden in Paris on June 13th.
Watch a report on O'Neill's Euro 2016 squad selection below.
https://www.youtube.com/watch?v=ZDX7ty2HDCE
(Images via Twitter)