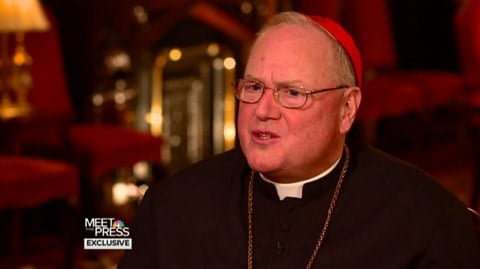 The Catholic church has spent more than $2 million on lobbying in an effort to block a bill that would make it easier for child sex abuse victims to seek justice.
Headed by New York City Cardinal Timothy Dolan, the New York Catholic Conference used Wilson Elser Moskowitz Edelman & Dicker, Patricia Lynch & Associates, Hank Sheinkopf, and Mark Behan Communications on external lobbying between 2007 and 2015 in areas related to "statute of limitations," "timelines for commencing certain civil actions related to sex offenses," parochial school funding and investment tax credits. The contract with Wilson Elser was not renewed this year and the church is now paying another prominent firm, Greenberg Traurig, $6,000-a-month.
https://twitter.com/GidiTaff/status/737751036757221376
Cardinal Dolan has compared same-sex marriage to incest, denied LGBT Catholics entry to mass and insisted gay people are entitled to friendship, not marriage.
The church has argued that opening a one-year window to revive old cases could could lead to bankruptcy. Along with the Catholic church, some Orthodox Jewish groups and other private entities have opposed legislation by Assemblywoman Margaret Markey and Senator Brad Hoylman that would eliminate the time limit prohibiting adults bringing civil cases after their 23rd birthdays.
Timothy Cardinal Dolan ripped for delaying talk on child sex abuse It is clear that dolan doesn't give a "F" ! https://t.co/XSaTtaFqSx

— A Baselice (@LeftSPhilly) May 25, 2016
According to NYC Daily News, Melanie Blow, chief operations officer of the Stop Abuse Campaign said "They are willing to spend limitless money in order to basically keep bad guys from being accountable for their actions. I think they're doing it because they don't want to have to pay out settlements."
Kathryn Robb, an advocate and abuse survivor added "If they need to spend that much money on lobbying, clearly, then, they have some pretty big secrets to hide."
Spokesman Dennis Poust said "the Catholic Conference lobbies on many issues, from assisted suicide to farm worker rights to school choice to criminal justice reform…it is all a matter of public record. We have no further comment beyond that."
Watch Dolan discuss Pope Francis' comments on LGBT people, same-sex marriage and gay priests below.