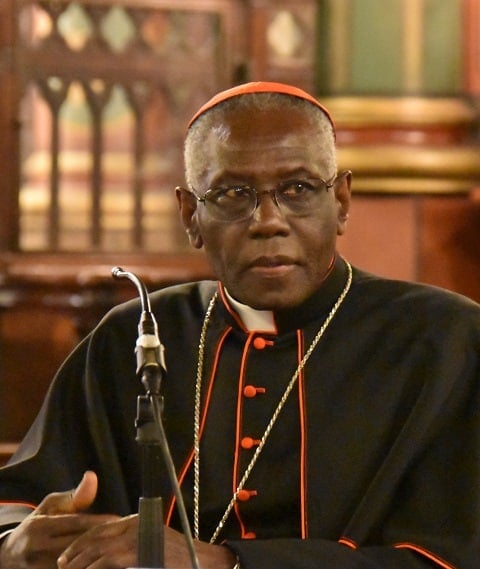 A high-ranking Catholic cardinal has said that god "is being eroded, eclipsed, liquidated" by laws "promoting transgender equality."
Speaking at the 12th annual National Prayer Breakfast, Cardinal Robert Sarah, prefect of the Congregation for Divine Worship and the Discipline of the Sacraments, also condemned same-sex marriage as a "demonic" attack on the traditional family. He also had it in for divorce, cohabitation, contraception….everything really.
https://twitter.com/PAT_CO0PERS_son/status/735623038432083968
According to Christian Daily, Sarah said:
"Should not a biological man use the men's restroom? How simpler can that concept be?
"In the name of tolerance, the Church's teaching on marriage, sexuality and [the] human person are being dismantled. The legalization of same-sex marriage, you're beginning to accept contraception within healthcare programs and even bathroom bills that allow men to use the women's restroom and locker rooms.
"The rupture of the foundational relationship of someone's life through separation, divorce or distorted imposters of the family such as cohabitation or same-sex unions is a deep wound that closes the heart to self-giving love into death, and even leads to cynicism and despair. These situations cause damage to the little children through inflicting upon them deep existential doubt about love."
Intolerance and evangelization: Thoughts on Cardinal Sarah at the National Prayer Breakfast | https://t.co/O4SzUFcuuG

— Christoph Sperling (@pfarrer39387) May 25, 2016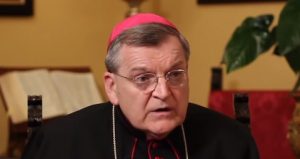 Last year, Cardinal Raymond Burke (right) said that Irish people who voted in favor of same-sex marriage are "worse than pagans."
(Top image via Wikimedia)
Watch Sarah's comments below (starting at 75 minutes).