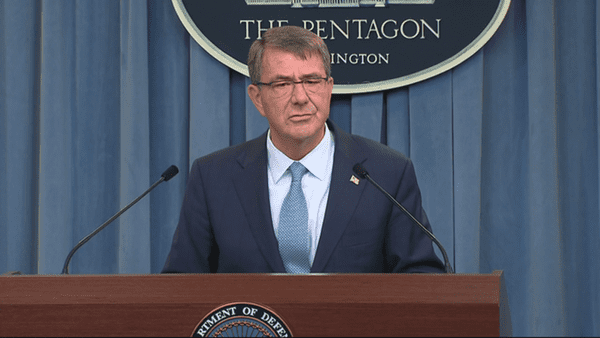 Defense Secretary Ash Carter announced today that the Pentagon will lift its ban on transgender troops serving openly in the military.
JUST IN: @DeptofDefense lifts transgender ban. Active duty trans may serve openly. Medical trtmnt by Oct. Accept trans recruits by 7/1/2017.

— Kevin Baron (@DefenseBaron) June 30, 2016
Watch an excerpt from Carter's announcement, below.
The move, nearly a year in the making, came despite last-minute concerns were raised by top brass about how to deal with the medical, housing and uniform issues for troops who are transitioning to the other sex.
"This is the right thing to do for our people and for the force," Carter said. "We're talking about talented Americans who are serving with distinction or who want the opportunity to serve. We can't allow barriers unrelated to a person's qualifications prevent us from recruiting and retaining those who can best accomplish the mission."
In a year, all the services will begin allowing transgender individuals to join the armed forces,
Carter called for full implementation one year from now. By October, the Department of Defense will craft and distribute a commanders' training handbook, medical protocol and guidance for changing a service member's gender in the in the Defense Eligibility Enrollment System.
That is the deadline that all the services will be required to provide medically appropriate care and treatment to transgender service members according to Department of Defense protocols.