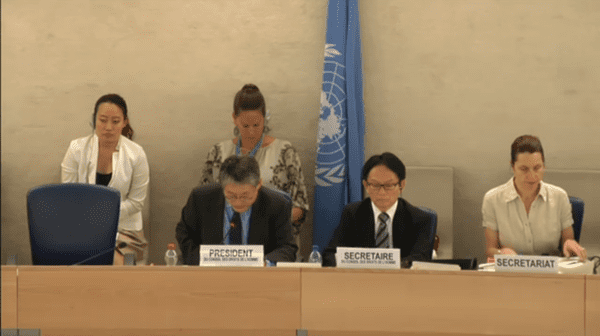 The U.N. Human Rights Council on Thursday narrowly voted in favor of creating an LGBT watchdog that will report on violence and discrimination committed against people around the world on the basis of their sexual orientation and/or gender identity.
The position will be filled by an independent expert and is the most striking affirmation of LGBT rights the U.N. has taken to date.
The person appointed to this role will be known as an "independent expert" and the position is charged with monitoring "violence and discrimination based on sexual orientation and gender identity."
This was the most ambitious effort yet to advance LGBT rights within the United Nations system, and the resolution included the strongest language to date suggesting LGBT rights should be a concern of international human rights law.
The two previous resolutions concerning LGBT rights passed by the United Nations Human Rights Council merely called for the UN's human rights office to prepare reports examining LGBT rights. But this and the few other mentions of sexual orientation or gender identity in other UN documents have been so modest that the UN Security Council made headlines by including a reference to sexual orientation in a press statement condemning the attack on a gay nightclub in Orlando, Florida — even though the document was not a formal resolution, it was notable that the UN's most powerful committee had mentioned sexual orientation in any kind of declaration.
The draft SOGI resolution has been adopted!!! Votes: 23 yes, 18 no, 6 abst#HRC32 #SOGIexpertNOW #SOGIexperteAHORA pic.twitter.com/2gyrZOEzt1

— ILGA World (@ILGAWORLD) June 30, 2016
Opposition to the resolution was led by Pakistan and nations from the Organization for Islamic Cooperation (OIC), with the exception of Albania who co-sponsored the resolution.
Despite being unable to defeat the resolution, opponents were able to pass a few anti-LGBT amendments, including, as J. Lester Feder notes, ones "that urge respect for local values, 'religious sensitivities,' or domestic politics" and others that suggested the resolution imposes western values onto formerly colonial nations and condemned the use of "coercive measures" to change anti-LGBT policies.
So big picture: the resolution so far survives to create independent expert on LGBT rights. But with a lot of hostile language.

— J. Lester Feder (@jlfeder) June 30, 2016