The Colton Haynes vs. Noah Galvin war is so two weeks ago…
In pop culture's latest gay-vs-gay feud, Billy Eichner, host of truTV's Billy on the Street, took on fellow comedian Ross Mathews and accused him of ripping off his show.
It all started when Eichner saw a CapitalOne commercial featuring Mathews, a judge on RuPaul's Drag Race and host of Fox's Hollywood Today Live, where he interviewed random people on the street in the same way that Eichner does it on Billy on the Street.
While that type of interview — man-on-the-street — is nothing new to TV and it's been used in late-night talk shows for years, the style was indeed very similar.
Eichner was furious, and not very gracious about it:
Hey @CapitalOne & @helloross – don't steal from my fucking show. This is stolen intellectual property. FUCK YOU. #GoodbyeRoss

— billy eichner (@billyeichner) June 17, 2016
Are you serious? I've been doing man on the street interviews since 2001. I've never even seen your stuff. Bless your heart.

— Ross Mathews (@helloross) June 17, 2016
.@helloross Perhaps u didn't but ur new friends @CapitalOne certainly did as they reached out to my agents about this campaign. HAPPY PRIDE.

— billy eichner (@billyeichner) June 17, 2016
Mathews claimed he had never even watched Billy on the Street before:
Just googled @billyeichner to watch some of his stuff for the first time. He's funny! Wish he was nice, too.

— Ross Mathews (@helloross) June 17, 2016
Life is short and I will not be getting into a Twitter feud with ROSS THE INTERN of all people. Here's a fun video: https://t.co/QU7bEKSjhs

— billy eichner (@billyeichner) June 17, 2016
No feud. Just responding to you. I came before you. I agree you're funnier, but you're also a dick. ❤️, Mr. Mathews https://t.co/5UGykcsEqt

— Ross Mathews (@helloross) June 17, 2016
.@billyeichner Glad your hissy fit is over. We should be building each other up, not tearing one another down. All good. ❤️🌈

— Ross Mathews (@helloross) June 18, 2016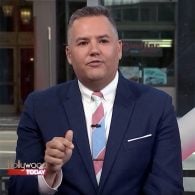 Apparently, not all was good yet.
On Monday, Mathews spent three and a half minutes on Hollywood Today Live explaining to his co-hosts what had happened:
"On Friday, somebody tweeted me who claims I ripped him off," he said. "Bully Eichner" from the "Bully on the Street" show.
Mathews, who first became known as "Ross the Intern" at The Tonight Show with Jay Leno in 2001, said that he'd been doing those man-on-the-street interviews for years, so he couldn't have ripped Billy on the Street off.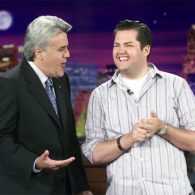 "You may do it better than me, but I did it before you," he said adding that Eichner "did not like that and he went on this all-caps Kanye-style rant at me."
Mathews said that he's "all about positivity, but if you come at me wrong, I'm just going to have to fill you in that you need new britches because you might be too big for yours."
But of course Mathews doesn't want any drama: "This is not about negativity. Please don't go after him," he told the audience. "This needs to be done."
Even though he did bring it up a few days after it'd already died on Twitter.
Watch the interview in full below:
https://www.youtube.com/watch?v=f5VoJrTVpTY
Whose side are you on? Watch the evidence below and judge for yourself:
Here's Eichner on Billy on the Street: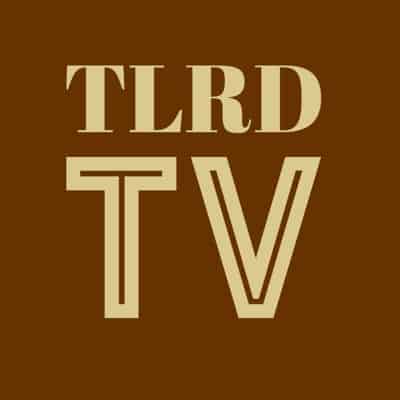 And here's the CapitalOne commercial:
It's time for street trivia! Hint: @helloross has some trick questions up his sleeve.https://t.co/SMJDruUako

— Capital One (@CapitalOne) June 16, 2016
Here's support for #teamBilly:
Do you love Billy on the Street? Do you wish it was turned into a shitty commercial? Have we got news for you!

— Dan Travers (@Dan_Travers) June 17, 2016
Are you paying @billyeichner royalties for (poorly) ripping off his shtick?

— 💉 3CallFinagle 😷 (@3CallFinagle) June 17, 2016
https://twitter.com/zuzuspetals2370/status/743914594268291072
https://twitter.com/AgoraphobicAng/status/744034296311201792
hey how about you don't steal billy eichner's bit for your next commercial? #BillyOnTheStreet

— Padley (@mal17pm) June 18, 2016
https://twitter.com/IncookieCook/status/743906442055294976
Here's support for #TeamRoss:
oh honey no.

— Andy Cohen (@Andy) June 17, 2016
https://twitter.com/dartbb82/status/744256368828243971
https://twitter.com/CEO/status/743933755744653312
GIRL ROSS LITERALLY STARTED DOING THIS BEFORE YOU WHAT ARE YOU TALKING ABOUT? CHECK👏🏻YO👏🏻SELF👏🏻

— Kat Tenbarge Stan (@HeyBun) June 18, 2016
.@helloross @billyeichner Love Billy's segments but not the false sense of entitlement and lack of humility. This was a stretch. #TeamRoss

— Steven Grossman (@stevengrossman) June 18, 2016