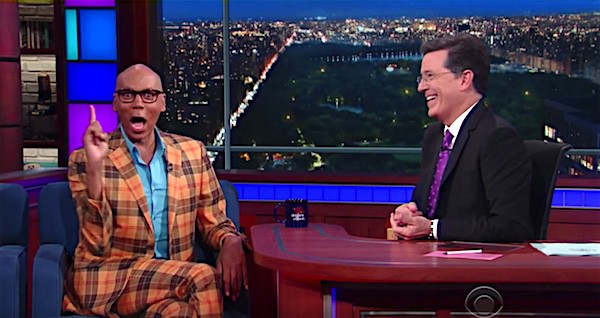 Drag legend RuPaul sat down with Stephen Colbert last night. Colbert asked Ru if it was okay "as a white straight male who lives in the suburbs" to call him a drag queen, and Ru said "drag queens don't take life too seriously….it's just a name."
Then he made an important correction.
"But you said drag queen. I am not just drag queen. I am the drag queen. #1."
Colbert then moved on to talk about RuPaul's coming out.
"I never came out. I was never in. There was no way for me to be in."
Ru explained that Ru is his real name, and caused Stephen to gag on his coffee with some follow-up advice:
"I always tell kids who come through Drag Race, change your name because you don't want your real name on public records. So if you're starting in show business, change your name, because you're sitting at the gynecologist's office and all of a sudden, you know, they call your name out and everybody goes 'Oh! She's up in here getting her pu**y cleaned. Miss RuPaul!"
Colbert then introduced RuPaul to his drag persona Raven, and asked Ru what he's doing for Pride.
To which Ru replied:
"Pride is for young people who are just coming into the life and just understanding what it is to be themselves. I have lived Pride for the past 55 years. I live Pride every single day. I go out and I love myself. I make sure that I am loving Ru 24/7."
Watch: