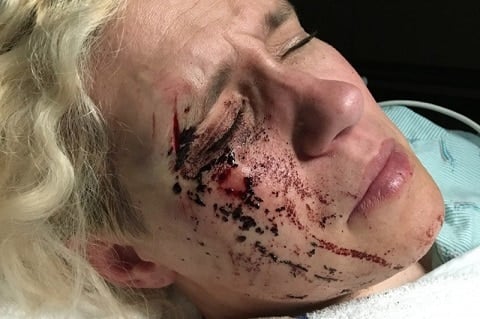 Seattle police are investigating an attack on a transgender man who was beaten last Wednesday evening after leaving a fundraiser for victims of the Orlando massacre.
Victim Michael Volz was attacked at around 11.30pm near 11th Avenue and East Pike Street.
The attacker approached Volz, and said "Hey, happy Pride" before punching him in the face. Volz was then grabbed by the throat and a transgender slur was used. Volz lost consciousness but was later able to drive home and contact a friend, who drove him to hospital.
Volz appeared at a media conference Friday prior to the 2016 Trans* Pride march. He said "This is not an isolated incident, this is something that happens to our community frequently and we're not going to take it anymore."
help find attacker of #MichaelVolz #DisarmHate #StopHate #Transphobia #LGBTQ #NeverTrump #trans https://t.co/CfesBckcNC

— Farmer BENDER 🚜 (@CryptoBenderr) June 28, 2016
He was joined by trans activist Danni Askini,founder of the Gender Justice League, who added:
"All of us are in shock and fearful. Part of our efforts to do things like Trans Pride Seattle is to create community and solidarity so that people do not feel isolated."
According to SPD Blotter, the suspect is a white male in his 20s, with brown hair and a partial beard. He was wearing an orange or copper-colored sweatshirt, blue jeans, and sandals.
Seattle Police Chief Kathleen O'Toole said:
"I'm disgusted by this hateful attack. I want to assure the victim and the community that the SPD will leverage every resource to identify the suspect and bring him to justice."
The FBI has offered its assistance to Seattle Police Department (SPD) Violent Crimes detectives. An SPD victim advocate has also been in contact with Volz to provide support. Anyone with information can call the SPD Violent Crimes tip line at (206)233-5000.
A GoFundMe campaign to support Volz with medical costs has so far raised close to $37,000. Any surplus will be donated to The NW Network and Gender Justice League.
Watch Volz speak about the attack below.
(Images via GoFundMe)
https://www.youtube.com/watch?v=QjEhrMKSgOY