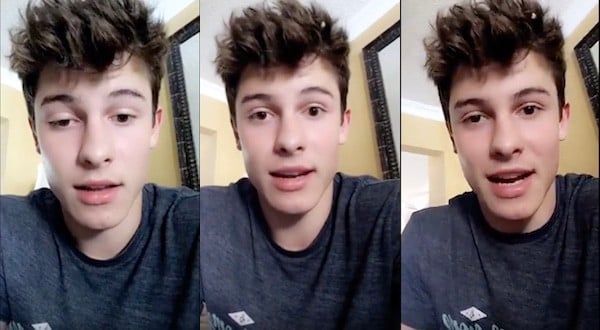 Canadian singer-songwriter and Vine phenom Shawn Mendes posted several messages to his Snapchat account declaring that he's not gay after reading YouTube comments suggesting that he gives off a "gay vibe."
Says Mendes in the messages, which were compiled and posted to YouTube:
So I don't usually do this or bring up problems but I was on YouTube just watching some of my interviews and I was going down the comments and noticed a lot of people were saying I gave them a "gay vibe".
First of all, I'm not gay. Second of all, it shouldn't made a difference if I was or if I wasn't. The focus should be on the music and not my sexuality.
Now I know 99% of you guys aren't making assumptions like this but this is for the 1% of you that are. I just want you guys before you judge someone on the way they speak or act to think, I want you guys to think 'hey, maybe I shouldn't be judging someone' or 'wait it actually doesn't even matter.' They can do or be or feel however they want to feel.
Now I'm not frustrated because people were saying that I was gay at all, I have no problem with that cause it wouldn't make a difference to me. I'm frustrated because in this day and age people have the audacity to…write online that I'm gay as if it were a bad thing.That's all I really have to say about that. I just wish those 1% of people would grow up. I love you guys.
Watch: