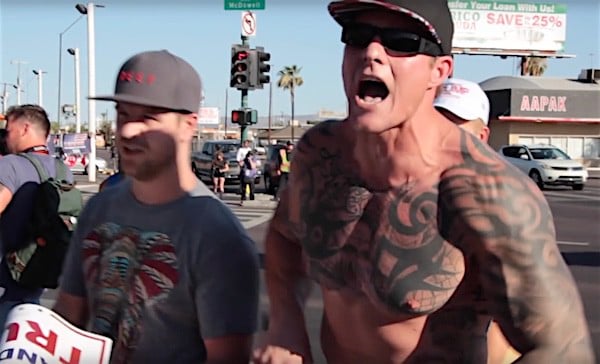 A white supremacist (the '43' tattoo) Trump supporter caught on video at a Phoenix rally last week is going viral for typifying the kind of voter energized by the new Republican Party.
…it listens to Slipknot, daydreams about appearing on an MMA-based reality competition show, smells like cocktail made of Mountain Dew, cough syrup, and creatine, and thinks anyone who appears to be Mexican should "BUILD THAT F**KIN' WALL… FOR ME!"
Trump's supporter is yelling at Latino protesters outside the Trump rally.
"I f**ked your whole f**king family with my big c*ck, he shouts, before getting further enraged. "Get the f**k out of here! Our country! Our country! Proud f**king American. Made in USA, bitch. Made in f**king USA. Go f**king cook my burrito, bitch. Go f**kin make my tortilla bitch, and build that f**kin wall. For me! You're lucky all these cops are here, bro."
Watch: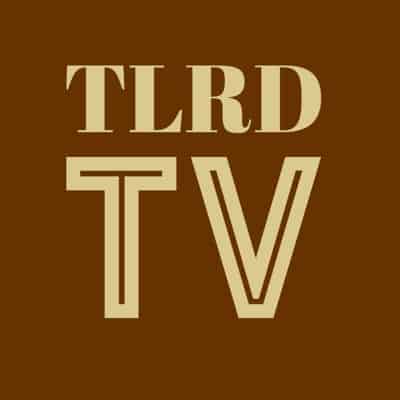 (h/t jmg)
UPDATE: The Trump supporter has been identified as Zackary Fisher by The Smoking Gun.
The 31-year-old Fisher lives in Mesa, a city 20 miles outside Phoenix, and works as a lab technician for Fikes Brace & Limb, a firm owned by his stepfather. Thecompany, which fabricates prosthetics and orthotics, also employs Fisher's mother and brother.
When not loudly lecturing others about tortillas, burritos, and the size of his penis, Fisher enjoys working out at LA Fitness, hiking, and spending time with his pit bull. He owns a red Ford Cobra SVT with vanity plates ("KEPH8N") and an assortment of weapons.Fisher has also fought in MMA matches, but it appears his career in the cage was derailed by injury.
In a pair of recent Instagram videos, Fisher is seen firing his AR-15 assault rifle into some Arizona brush and aiming at targets with his Glock handgun.
Fisher is also proud of his grueling workout regimen and the numerous tattoos adorning his chiseled physique. Along with tribal ink decorations, Fisher has a representation of the Arizona state flag on his back and the words "Never Trust A Bitch" on his side. While not visible until he lifts his arm, Fisher also has the number 43 tattooed beneath his left armpit. According to the Anti-Defamation League, the number "is used by members of the racist skinhead group Supreme White Alliance."