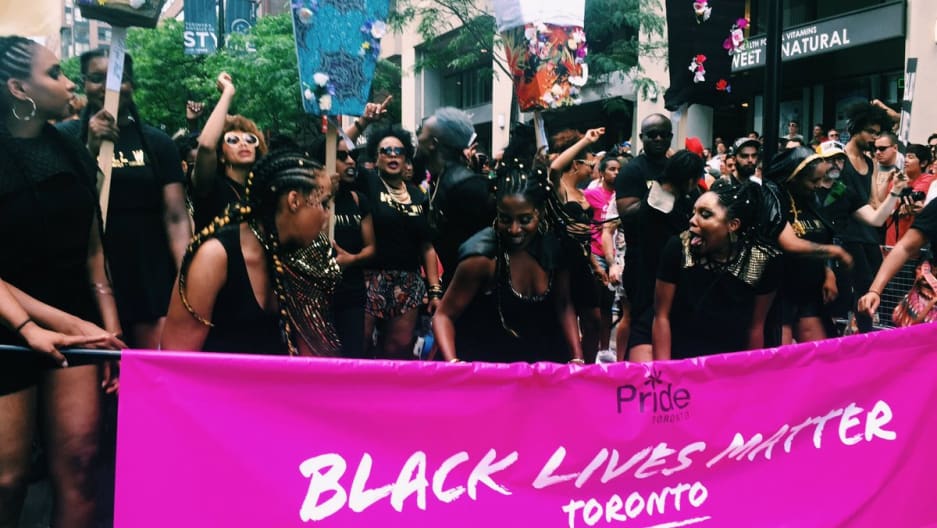 Canada's largest LGBTQ event was stalled briefly on Sunday when a group from Toronto's Black Lives Matter movement sat down on the city's parade route.
Shut it down. #blackpride pic.twitter.com/YNbHcsOSTm

— Black Lives Matter — Toronto (@BLM_TO) July 3, 2016
Black Lives Matter made a series of demands that were eventually agreed to by Pride Toronto's organizers.
The demands included removing Toronto police floats and booths in Pride marches, parades and community events.
Apparently to some, our demands are "too radical/divisive." Look for yourselves fam #BlackPride pic.twitter.com/NxfaMnYUaf

— Black Lives Matter — Toronto (@BLM_TO) July 4, 2016
Black Lives Matter used the sit-in to call attention to the shooting death of Andrew Loku. The Toronto father of five was killed by police on July 5 last year. Black Lives Matter has been highly critical of the Special Investigation Unit, which investigates officer-involved crimes. One reason: Only parts of the report into Loku's death were released.
Pride Toronto's executive director, Mathieu Chantelois, signed the group's list of demands, which also included a commitment to increase representation among Pride Toronto staff and to better support black events during Pride like Blockorama.
Then the parade started up again. It was a historic day already, as Justin Trudeau became the first Canadian prime minister to march in a gay pride parade.
Fiers. #PrideTO pic.twitter.com/vIpQS2TImM

— Justin Trudeau (@JustinTrudeau) July 3, 2016
The Toronto Star's Sarah-Joyce Battersby, who reported on the sit-in, says that Trudeau seemed to enjoy the extra time it gave him with the crowd.
"He just took the chance when the parade stopped for 30 minutes to sort of meet and greet with people along the route, take selfies. He was really in his element and he didn't comment or come near to the sit-in protest."