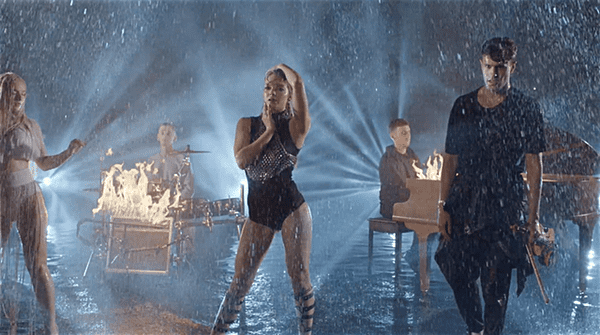 Clean Bandit's new music video has everything: rain, a hunky ballet dancer, colored clouds of smoke, instruments on fire, and even the owl that played Hedwig in the Harry Potter movies. No, seriously.
The latest video effort from the band who brought you 2014's infectious hit "Rather Be", is once again contending for song of the summer with their track, "Tears" featuring Louisa Johnson.
Band member Jack Patterson directed the music video for the song. "We always make our own videos, and this one has been an amazing experience," Patterson said. "There are zero special effects and we did everything in front of the camera. As you'll see, there's a lot of water and fire and even a special guest cameo from the Harry Potter owl, Hedwig! The video conveys the fire you need to find within yourself in order to part from a person you love."
Clean Bandit violinist Neil Amin-Smith (aka Neil Milan) is openly gay and was in a high-profile relationship with Years & Years frontman Olly Alexander that ended late last year.
Watch "Tears", below.