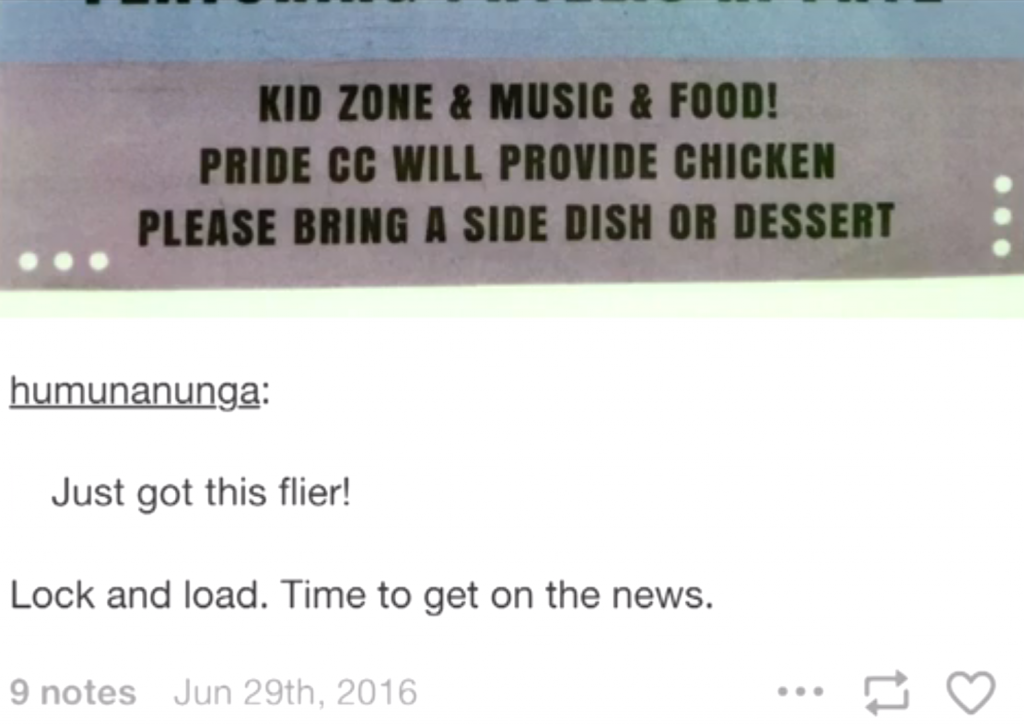 Organizers of an upcoming LGBT Pride celebration in College Station, Texas, have postponed the event indefinitely in response to a violent threat on social media.
The Pride Community Center postponed its sixth annual LGBT Pride picnic, set for July 10, after someone reposted a flier for the celebration on Tumblr (above) along with the caption: "Just got this flier! Lock and load. Time to make the news."
An LGBT activist in Pennsylvania noticed the Tumblr post and reported it to the FBI.
"Pride received a threat of violence and while the police and FBI are actively investigating, the Board of Directors deemed it best to be hold the picnic at a future date," the Pride Community Center wrote Saturday on its Facebook page. "We hope that our LGBTQA+ community and allies will join us at that time for an even bigger event. We'll see you then!"
The Pride Community Center was expecting record crowd of up to 500 people at the picnic in the wake of the June 12 terror attack at Pulse Nightclub in Orlando. Even before the threat, the community center had hired security for the event for the first time.
The College Station Police Department issued a statement saying it had served two subpoenas to Tumblr seeking to identify the person who posted the threat, but had not received a response, according to KBTX-TV.
"With no ability to determine the credibility of the threat, members of the Pride Board opted to cancel the picnic in the interest of public safety," the department said. "Despite the cancellation, CSPD investigators will continue to follow up on the situation and will work with the FBI to identify any potential charges."
Watch KBTX's report below.