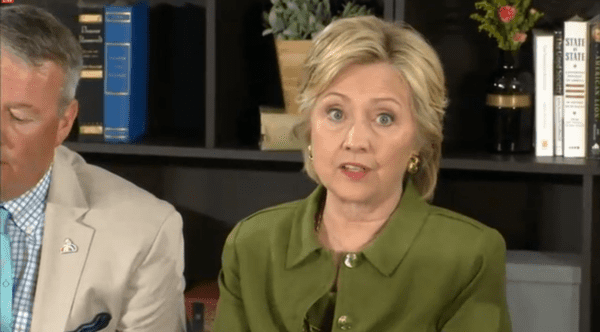 Hillary Clinton visited the site of the Pulse nightclub massacre in Orlando, Florida on Friday and met with local leaders as well as family members and friends of the 49 victims who lost their lives on June 12.
Clinton met the bereaved privately, according to NPR's Tamara Keith, before leading a roundtable discussion with local leaders. She then visited the Pulse nightclub to lay flowers at a memorial that has been created to honor the victims.
Clinton's visit to Orlando was her first public appearance since the RNC officially wrapped its convention with a flurry of fear-mongering. What Clinton offered up on Friday was in stark contrast to the doom and gloom presented by Trump in his acceptance speech Thursday night.
Moreover, Clinton demonstrated what real support for the LGBTQ community looks like. Whereas Trump was content to merely name-check the LGBTQ community in his speech while at the same time supporting a virulently anti-gay platform, Clinton consoled people who lost loved ones in Orlando; she discussed what could be done to better protect LGBT people in the future; she acknowledged the disproportionate threat of violence that LGBT people face compared to all other groups in the U.S.; and she thanked Orlando's first responders for their bravery the night of the massacre. In other words, it was "peak Clinton", as Tamara Keith put it.
Hillary Clinton's first post-RNC event will be peak Clinton…a roundtable discussion in Orlando. Lots of listening. pic.twitter.com/r2lBL5Dcos

— Tamara Keith (@tamarakeithNPR) July 22, 2016
Said Clinton in her remarks,
"We need to acknowledge and be very clear who this attack targeted: the Latino LGBT community…What does that mean? Among other things it means that it is still dangerous to be LGBT in America. I think it is an unfortunate fact but one that needs to be said that lesbian, gay, bisexual and transgender people are more likely than any other group in our country to be hate crimed. They face a very complicated intersecting set of challenges in general and specifically even more so as people of color."
She added, "We have to stand against hate and bigotry. I was really moved by everyone who stood in solidarity with the victims here in Orlando."
Of what can be done to prevent a massacre similar to the one in Orlando from transpiring ever again, Clinton said, "We have to take on the epidemic of gun violence, particularly assault weapons…The havoc they leave in their wake is no longer tolerable….[And we have to] disrupt the global online network that radicalizes people here in the United States."
She closed by saying, "I will do everything I can, both in this campaign but [also] after it, to stand with you and to support you and to try to promote the kinds of changes that will prevent this from happening to other people, other families and other communities in the future."
The Orlando Sentinel reports on the meeting: 
Orlando Mayor Buddy Dyer, who led the meeting alongside Clinton, said he would not wade into policy but called for unity and inclusiveness.
"We need to better understand how we come together, that we are stronger when we appreciate the similarities that we have and don't focus on the differences," Dyer said.
Orlando District 4 Commissioner Patty Sheehan tearfully lamented the loss of young life at Pulse, where 49 people were killed in a mass shooting June 12. She noted that the massacre happened in a gay nightclub on Latin Night.
"This was a very diverse group of millennials, who are our answer to these problems in America," Sheehan said.
Click Orlando adds, "The families of the Pulse shooting survivors were also at the meeting, crying as the discussion focused on the attack."
Watch video of Clinton laying flowers beside a memorial that formed outside the Pulse nightclub and also her meeting with first responders from the deadly attack, below.
And check out more photos of Clinton's visit, below.
Clinton is speaking with Orlando Mayor Buddy Dyer and first responders here at Pulse. pic.twitter.com/IQM8a5DGwC

— Dan Merica (@merica) July 22, 2016
.@HillaryClinton visits memorial outside Pulse nightclub in Orlando pic.twitter.com/HtIvMXm0vi

— Amy Chozick (@amychozick) July 22, 2016
Hillary Clinton is paying respects at the Pulse nightclub memorial in Orlando pic.twitter.com/zF6fw8sw6D

— Monica Alba (@albamonica) July 22, 2016
Hillary Clinton lays flowers at Pulse Nightclub in Orlando. pic.twitter.com/h6IUBCxpxu

— Dan Merica (@merica) July 22, 2016
Clinton speaking to first responders at Pulse nightclub memorial in Orlando. Laid white roses at the memorial. pic.twitter.com/ozmhAClfVW

— Tamara Keith (@tamarakeithNPR) July 22, 2016
https://twitter.com/gdebenedetti/status/756569430008721410
Clinton outside Pulse in Orlando pic.twitter.com/jWcu5azhLD

— Jennifer Epstein (@jeneps) July 22, 2016
The thing that struck me about the Pulse memorial was how cheerful it looked, because of all the rainbow flags. pic.twitter.com/3HGRVoTF4O

— Tamara Keith (@tamarakeithNPR) July 22, 2016