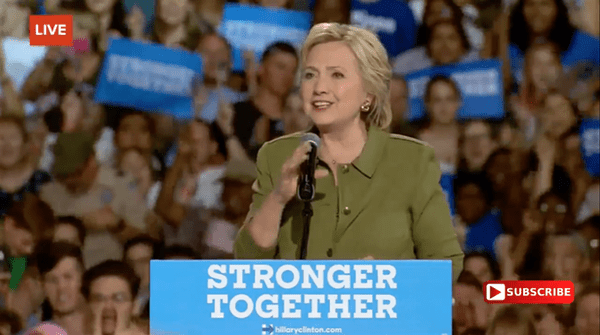 Hillary Clinton is holding a rally in Tampa, Florida on Friday and might reveal who her VP pick will be. While it was widely rumored that Clinton would leak her selection on Friday, a shooting in Munich, Germany that has killed at least 8 people has seemingly led the campaign to stall its announcement.
Monitoring the horrific situation in Munich. We stand with our friends in Germany as they work to bring those responsible to justice. -H

— Hillary Clinton (@HillaryClinton) July 22, 2016
Clinton will be traveling to the rally in Tampa after meeting with family members and friends of victims of the Orlando massacre. Clinton also visited the Pulse nightclub on Friday.
Virginia Senator Tim Kaine is reported to be the front-runner for the no. 2 job.
UPDATE: Clinton's plan to unveil her VP pick has reportedly not changed despite the attack in Munich.
Clinton camp woke up with the same plans for its vice presidential announcement that it is still executing at this moment, aide says

— Jennifer Epstein (@jeneps) July 22, 2016
Watch live, below.
https://www.youtube.com/watch?v=J5_pUTHDEWc