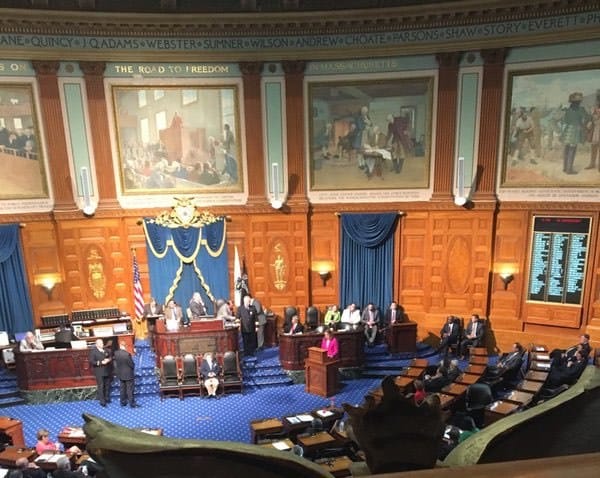 Lawmakers in the Massachusetts House and Senate on Wednesday reached a deal over a proposed transgender rights bill, agreeing on a compromised version to send to Republican Governor Charlie Baker for his signature or veto.
The House and the Senate each previously had their own dueling versions of the bill.
Under the compromise bill, transgender individuals will be able to use bathrooms, locker rooms, and changing rooms in accordance with their gender identity. The bill also bans anti-trans discrimination in the area of public accommodations.
The Boston Globe reports on the deal: 
One place the Senate and House had disagreed was when the bill would take effect. The compromise measure will be fully effective on Oct. 1, 2016, should Governor Charlie Baker sign it into law.
Another area of disagreement was language, included by the House, that would require the attorney general to issue guidance on when and how action can be taken against people who assert gender identity for "an improper purpose." It would also mandate that the Massachusetts Commission Against Discrimination make rules and regulations protecting transgender people from discrimination.
That language, slightly tweaked, was included in the compromise. Legislators say the guidance will address several concerns: safety worries from opponents who fear male sexual predators, under the guise of being transgender women, could enter women's restrooms and locker rooms; anxiety from businesses wondering how and when they can legally ask a person if there is some question about their gender; and concern from transgender people that they might be unreasonably harassed for proof of their gender identity.
House-Senate negotiators agree to October implementation date in just-struck transgender bill accord. Details: https://t.co/dvis6qK0Rn

— State House News (@statehousenews) July 6, 2016
Governor Baker has not said whether he will sign the compromise version of the bill but experts expect he will.