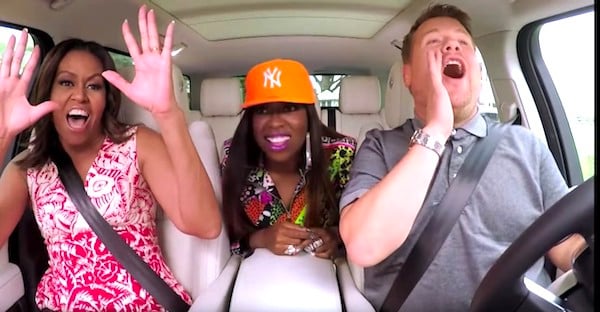 As we previewed earlier in the week, Late Late Show host James Corden picked up First Lady Michelle Obama at the White House for a round of Carpool Karaoke — and it was amazing.
Corden got a tour of the White House grounds (followed by the Secret Service the entire time) and a listen to some of FLOTUS' favorite collection: Stevie Wonder "Signed Sealed Delivered", Beyoncé's"Single Ladies", and "This Is For My Girls", for which they were joined by Missy Elliott.
They also threw down "Get Ur Freak On" and got their interview on.
"What are you going to miss and what are you going to accidentally slip into your bag?", Corden asked FLOTUS.
"I'm going to miss the people," said The First Lady. "[And I'll enjoy] the freedom that we'll get in exchange for the luxuries…I can make my own grilled cheese sandwich."
We also found out about the trip Obama is planning to Liberia, Morocco, and Spain for her "Let Girls Learn" program, for which she hopes to use Snapchat as a tool to get them interested.
"So much could be corrected in the world if girls were educated and had power over their lives."
Indeed.
Watch: