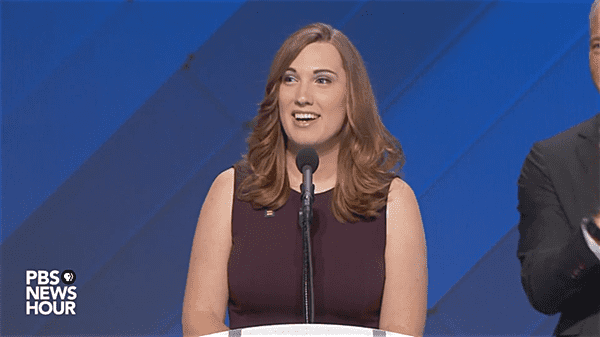 Transgender activist Sarah McBride became the first openly transgender person to speak at a major political party's convention on Thursday.
McBride was introduced by Rep. Sean Patrick Maloney, the first openly gay person elected to Congress from the state of New York.
Taking the podium, McBride shared how she came out as transgender four years ago and was worried that being transgender would prevent her from achieving all that she wanted in life. Said McBride, "At the time, I was scared. I worried that my dreams and my identity were mutually exclusive."
Since coming out, McBride has worked at The White House and at the Human Rights Campaign championing LGBT rights. And while she has seen much progress, she says, "so much work remains." This election comes down to a fundamental question of character, McBride stressed:
"Will we be a nation where there's only one way to love, one way to look, one way to live? Or, will we be a nation where everyone has the freedom to live openly and equally; a nation that's Stronger Together? That's the question in this election."
McBride then touted Hillary Clinton's commitment to LGBT issues, saying,
"Hillary Clinton understands the urgency of our fight. She will work with us to pass the Equality Act, to combat violence against transgender women of color, and to end the HIV and AIDS epidemic once and for all."
And unlike the Republicans, McBride pointed out that hate against LGBT people doesn't just come from "foreign ideologies":
"Today in America, LGBTQ people are targeted by hate that lives in both laws and hearts. Many still struggle just to get by. But I believe tomorrow can be different. Tomorrow, we can be respected and protected — especially if Hillary Clinton is our president. And that's why I'm proud to say that I'm with her."
Watch McBride make history, below.