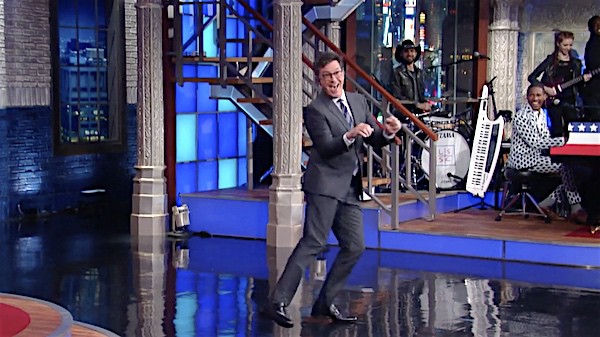 Stephen Colbert got giddy last night after responding to an audience member's question during a Late Show Q&A that wasn't broadcast.
The moment was posted on Twitter and shows Colbert's response to the question, "if you had Donald Trump on your show tonight, what would you ask him?"
Said Colbert: "Well we're not broadcasting right now, so I'd say 'What does Vladimir Putin's di*k taste like?'"
Watch:
And now @StephenAtHome with an important question for Donald Trump. #ColbertDNChttps://t.co/DdG7aYYQO0

— The Late Show (@colbertlateshow) July 27, 2016
In a news conference on Wednesday morning, Donald Trump challenged the Russian government to try and find 30,000 missing Hillary Clinton emails.
In an interview on FOX & Friends this morning, Trump said he was just being sarcastic: "Of course I'm being sarcastic. You have 33,000 emails deleted, and the real problem is what was said on the emails from the Democratic National Convention."
https://www.youtube.com/watch?v=xhh5fgDIZRI