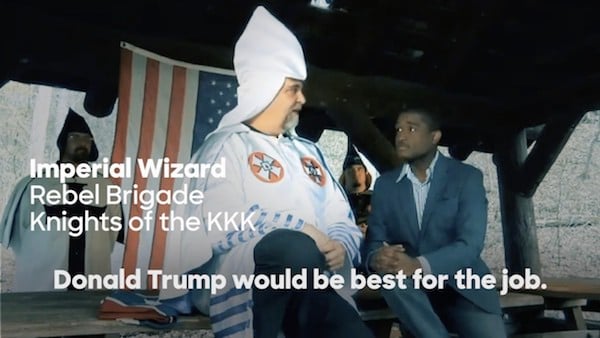 A new Hillary Clinton ad posted hours before a speech on the same topic ties Donald Trump to the racist, white supremacist, 'Alt-Right'.
The ad comes as Trump is trying to persuade voters that he is exactly the opposite.
Clinton's team knows that. It knows what he's trying to do and it thinks it knows how to undercut it. Clinton's ad also isn't targeting nonwhite voters — she's hoping to remind wavering Republicans of one of the reasons they were wavering in the first place. Trump is hoping to drive past these concerns; Clinton is trying to toss an anchor around his trailer hitch.
This is Trump's main problem as the clock ticks down. Can he now, after a year-plus of making arguments that some racists did find appealing, redefine himself in the eyes of observers?
Clinton is scheduled to give a major speech on this topic at 3 pm ET at a community college in Reno, Nevada:
Accordingly, one of Mrs. Clinton's challenges will be explaining the "alt-right" to a national audience that may have little familiarity with it. Her campaign has accused the ideology's proponents of "embracing extremism and presenting a divisive and dystopian view of America."
Watch the ad:
There's a reason the most hateful fringe of the right wing is supporting Donald Trump.https://t.co/AqB3DM2m0N

— Hillary Clinton (@HillaryClinton) August 25, 2016