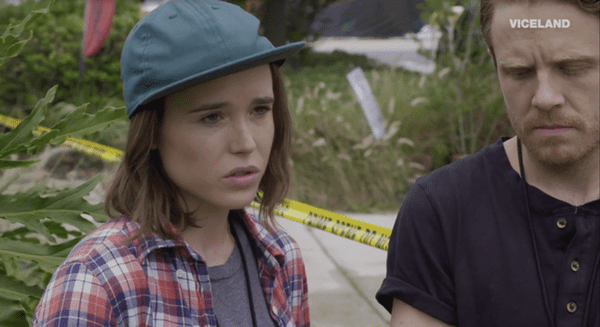 Last night, VICELAND aired Gaycation Presents: Orlando, a special episode of its docuseries Gaycation with Ellen Page and her best friend Ian Daniel that looks at LGBT culture and struggles around the world. The pair traveled to Orlando in the wake of the Pulse massacre to help bring continued attention to the shooting left 49 people dead and was the deadliest mass shooting in US history. The massacre was also the worst terrorist attack on US soil since 9/11.
The episode begins with a haunting image of the crime scene outside Pulse just days after the shooting. Page and Daniel say they wanted to start their trip to Orlando by going to Pulse and paying their respects to the victims who lost their lives.
"We're here because we just want to see how the community is feeling and dealing with this and just be here for those who feel like they want to share their story."
You can watch the emotional episode in its entirety, below.
You can also read an interview that Daniel did with Nadine Smith, CEO of Equality Florida, an organization working to advance LGBT rights in the state and the creators of the Pulse Victims Fund, here.
https://www.youtube.com/watch?v=EZP6q09rBFk