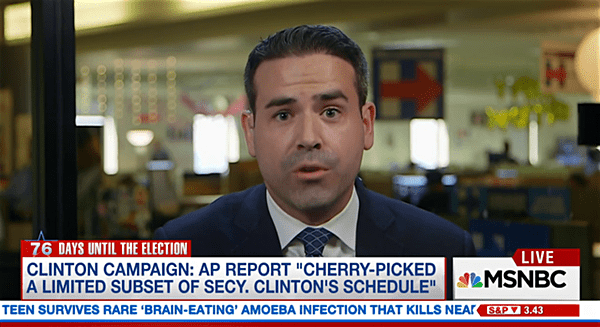 Clinton Press Secretary Brian Fallon pushed back against the suggestion that the Clinton Foundation should shut down if Hillary Clinton is elected president.
Fallon sat down to talk with MSNBC's Andrea Mitchell about a report from the AP that insinuated corruption at the foundation during Clinton's tenure as Secretary of State.
Fallon rebuked critics of the foundation and the AP report, arguing that the Clinton Foundation is being politicized because it's an election year. Previously, "The Clinton Foundation has been widely praised by Democrats and Republicans alike," Fallon said.
What Fallon thinks should get more attention in the press is the work that the Clinton Foundation does around the world, for instance helping to solve the HIV/AIDS crisis.
Said Fallon,
"Let's look at what that foundation work is. They have given AIDS drugs to a 11.5 million people in the world…more than half the people in the world receiving AIDS drugs receive them from the Clinton Foundation. So no, the Clinton Foundation will not be completely shuttering its work even if Clinton wins the presidency. And for good reason, they want to continue this work."
Appearing a bit agitated, Fallon pushed back further:
"And you know what? If any American voter is troubled by the idea that the Clintons want to continue working to solve the AIDS crisis on the side while Hillary Clinton is president, then don't vote for her. But I think most voters are pretty reasonable on that point."
Long-time Clinton ally Paul Begala tacked onto Fallon's argument, tweeting:
Before @ClintinFdn, 200K people with HIV AIDS in poor countries got lifesaving anti-retroviral meds. Because of @ClintonFdn, 11.5M do now.

— Paul Begala (@PaulBegala) August 24, 2016
Watch, below.