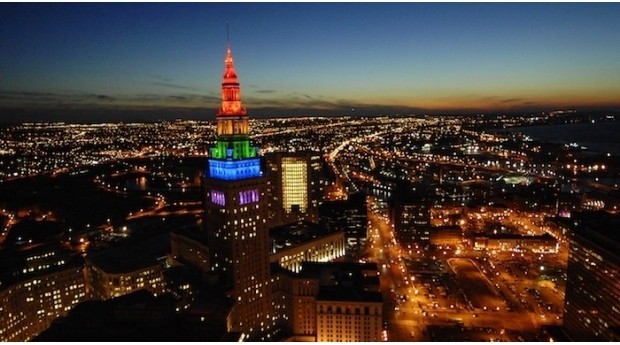 Outraged over the cancellation of Cleveland Pride due to vague security concerns, LGBT advocates and allies are now planning another event on the same day.
Last week, Cleveland Pride Inc. announced the celebration will not be held as planned Aug. 13 for the first time since 1989, citing the terror attack that left 49 people dead at a gay Orlando nightclub in June.
"We have been entrusted by our community to create a secure parade and festival environment for our LGBTQ brothers, sisters, mothers, fathers, sons, daughters, aunts, uncles, friends and allies," Cleveland Pride President and CEO Todd Saporito said in a statement on the organization's website. "Because of the changing social climate, Cleveland Pride did not have enough time to engage in the development of awareness programs and training that we believe is critical in today's environment. Therefore, we regretfully cancelled our 28th annual parade, rally and festival this year."
The announcement shocked community members, including nationally syndicated radio host and local university professor Ken Schneck, who noted Cleveland Pride had already been pushed back to accommodate the Republican National Convention. Schneck also pointed to the RNC and other events, including the Cleveland Cavaliers NBA championship parade, as evidence the city is capable of safely accommodating large gatherings.
A petition calling for Saporito to resign over the cancellation has garnered nearly 1,200 signatures. And on Sunday, the city's LGBT Community Center announced the new celebration:
After last Thursday's announcement made by Cleveland Pride Inc. that the annual Cleveland Pride Parade and Festival had been cancelled, Cleveland LGBTQ Leaders joined together on the morning of July, 31st to move forward with a new event that will take place on Saturday, August 13, 2016.
Phyllis Harris, Executive Director of The LGBT Community Center, Cleveland City Councilman, Kerry McCormack; State Representative, Nickie Antonio; City of Cleveland and Dept. of Economic Development, Kevin Schmotzer and members from the following organizations: The LGBT Community Center, Plexus, HRC Cleveland Steering Committee, GG9, Stonewall Democrats, Stonewall Sports Cleveland, WH2, Dare2Care, Margie's Hope and Equality Ohio are excited to announce that we will celebrate the LGBTQ Community, loud and proud, in Cleveland.
We will have a safe and secure environment in which to celebrate and we will show the world that Cleveland's LGBTQ Community Rocks. Please stay tuned for more details on location, times, entertainment, etc. Cleveland will unite and will celebrate our community and diversity on Saturday, August 13, 2016.