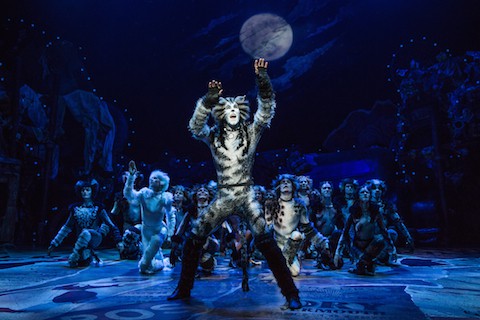 Full disclosure: I am allergic to cats. Also, I think they're weird. I generally regard them in the same way I do other sociopaths — from a distance. So, sitting in the fourth row of Cats, which returned to Broadway last night at the Neil Simon Theatre, was not exactly what I would consider my comfort zone.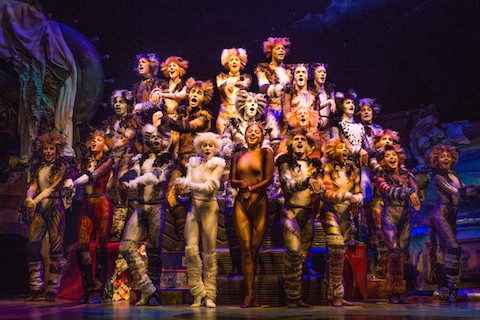 When those tell-tale pairs of yellow eyes began to glow from the recesses of John Napier's trash-barge set, I giggled uncomfortably. When the company first emerged from the darkness, many on their hands and knees, the painted patterns of their full bodysuits becoming clear in the light, I looked around to see if anyone else was trying not to laugh. And when, a few minutes later, a giant boot came down and hit the stage with a thud, I may have guffawed.
Hardly 10 minutes in to Trevor Nunn's earnest revival of Andrew Lloyd Webber's feline juggernaut, I knew that waiting for the other shoe to drop would be futile. Of course, it never did.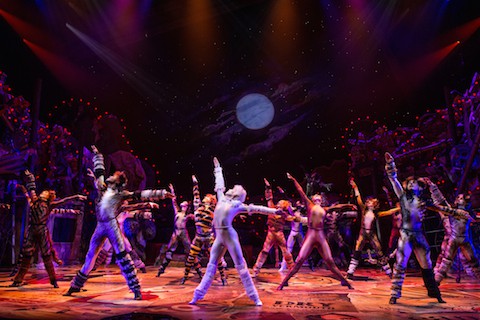 Much like the animals that inspired it, Cats is divisive. Seeing as it's the fourth longest-running musical in Broadway history (the original production ran from 1982 until 2000), clearly the show has mass appeal. It is also hands-down the most openly bizarre piece of entertainment to ever be so popular. "Now and forever" reads the original tagline; we're inching toward forever, and the joke may be on those who are still scratching their heads.
Much has changed in 30 years, but don't expect irony or any trace of LOL-cats internet culture inside the Neil Simon. From the company's multicolor shocks of spiked hair and snug legwarmers to Lloyd Webber's signature synth — this is an unadulterated '80s reboot. Its hard to think of a more welcoming climate for pure escapism, and it doesn't get more pure than this.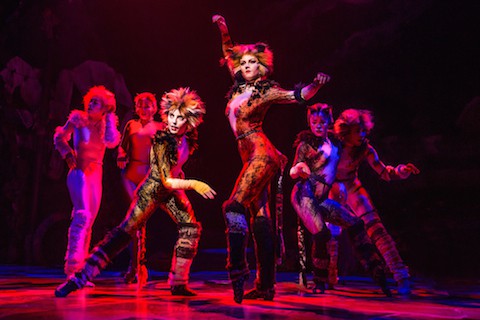 Based on T.S. Eliot's Old Possum's Book of Practical Cats, the musical is as close to the trippy fever dream of a cat-obsessed shut-in as you can get. Basically, a bunch of cats come together one night to decide which of them gets to enter into a new life. The songs, made up of lyrics from Eliot's poems, mostly introduce the cast of characters as they assemble — like Rum Tum Tugger, a sexy cat with swagger, Mungojerrie and Rumpleteazer, a pair of cat burglars, Macavity, the mystery cat, etc.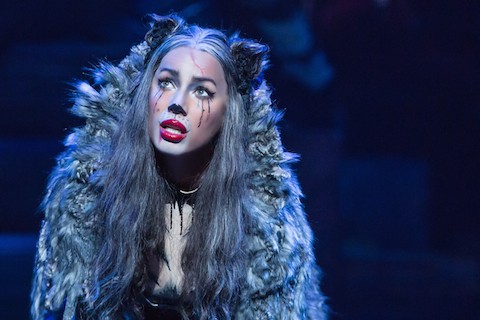 Nunn himself wrote the lyrics to "Memory," the famous eleven o'clock number that wins Grizabella, the "fallen woman" cat, the honor of ascending to be reborn. (The role also won Betty Buckley a Tony for just 10-odd minutes of stage time.) British pop star Leona Lewis tiptoes into the role here, delivering a rather meek vocal performance before finally blowing the lid off the song's short climax.
As much as a mind-altering substance may be the only way to reap peak enjoyment of Cats, the cast assembled here delivers 110% percent, from their darting eyes and cat-like moods to their energetic execution of Andy Blankenbuehler's balletic choreography (based on the original by Gillian Lynne). There's something marvelous about a chorus line of expressive cats eliciting applause simply by moving downstage. No smoke and mirrors or clever rap lyrics, just heavy makeup, unblinking stares, and bodysuits with tails.
Follow Naveen Kumar on Twitter: @Mr_NaveenKumar (photos: matthew murphy)