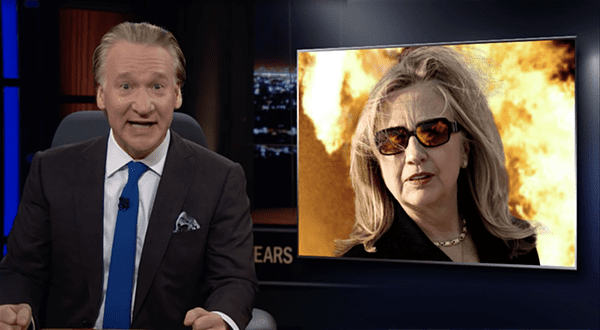 On Friday's Real Time, host Bill Maher implored Democratic presidential nominee Hillary Clinton to embrace the villainous role that the Republican party has spent the last twenty years carving out for her.
Said Maher,
"Since half the country will believe an evil cartoon version of Hillary Clinton no matter what she says or does, she has to embrace it. This year, the voters are not in the mood for steady as she goes. They want a ruthless mafia boss who will protect their frighten souls which is why Hillary has to own all the nasty things the haters say and run as the Notorious HRC."
Maher was bewildered as to why Americans are somehow taken in by Donald Trump, a self-avowed scumbag, but a scumbag who is arguing he will act as a scumbag on behalf of America's interests if we elect him president. Surprisingly, that argument has appealed to a large swath of Americans. Because of that, Clinton must take a new approach. Maher explained,
"If America thinks it can only be safe right now with a lying, cheating sociopath, that could be good for Hillary because that's what Republicans keep saying she is. She should end every one of her campaign ads with, 'I'm crooked Hillary and not only do I approve this message but I will cut a b*tch.'"
He went on,
"Hillary should say, 'I can't wipe out ISIS? Please. I will wipe them out and make it look like a skiing accident…My pantsuit is stitched together from the carcasses of the multitudes I have made disappear.'"
He also had a suggestion for how she should respond to those "lock her up" chants and 'Hillary for Prison' slogans:
"People say, 'Lock me up.' Fine, lock me up. You think I'm scared of a stretch in the joint?" he said. "I could run this motherf–ka from the inside. El Chapo got nothing on me."
Watch, below.