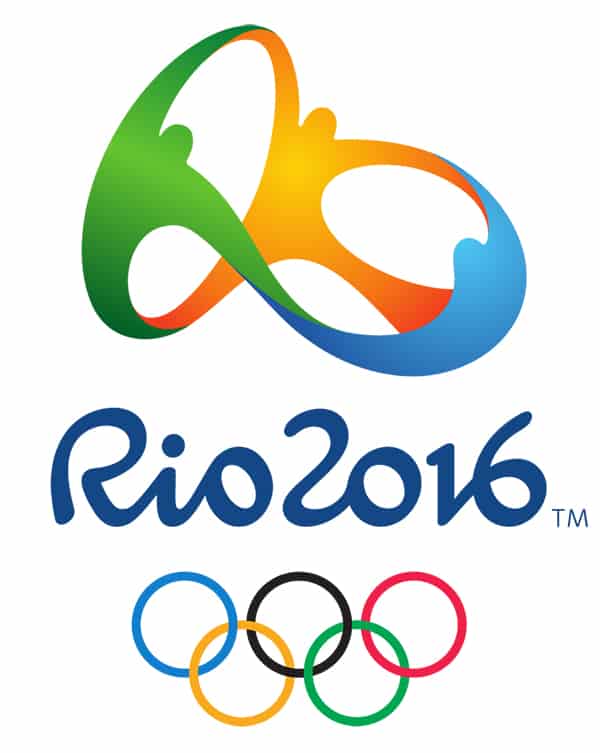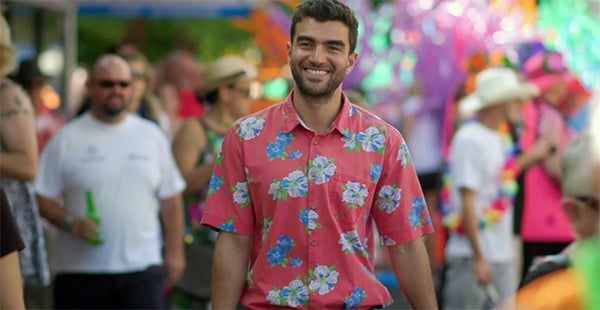 Swimmer Amini Fonua, of Tonga, one of the few openly gay Olympians in Rio — and our newest hero — took to Twitter to protest against the Daily Beast's reporter Nico Hines who used Grindr to out Olympic Athletes.
Shame this inhumane CREEP who thought it'd be funny to endanger people's lives in the village 🖕🏼🖕🏼🖕🏼 @NicoHines pic.twitter.com/5TTom3i9c6

— Amini Fonua (@AminiFonua) August 11, 2016
As an out gay athlete from a country that is still very homophobic, @thedailybeast ought to be ashamed #deplorable https://t.co/qzS9rDFJwx

— Amini Fonua (@AminiFonua) August 11, 2016
Imagine the one space you can feel safe, the one space you're able to be yourself, ruined by a straight person who thinks it's all a joke?

— Amini Fonua (@AminiFonua) August 11, 2016
No straight person will ever know the pain of revealing your truth, to take that away is just… I can't. It literally brings me to tears 😭😭

— Amini Fonua (@AminiFonua) August 11, 2016
It is still illegal to be gay in Tonga, and while I'm strong enough to be me in front of the world, not everybody else is. Respect that.

— Amini Fonua (@AminiFonua) August 11, 2016
He also posted a photo of his bare ass on Instagram, and wrote:
Yo @nicohines & @thedailybeast – if what you were looking for on Grindr was hot ass (and I don't see any other reason why you'd be on there) here you have mine in all its proud glory. Now, kiss it and f**k off 👅🖕🏼 #pride"
We can't show you his Instagram photo, but you can check it out HERE. And you really should.
♦
Fiji won its first Olympic medal ever, in Rugby Sevens, and the country went crazy celebrating the achievement. The island nation of 900,000 inhabitants spread across nearly 300 islands beat its former colonial ruler, Great Britain, by 43-7.
This year marks the return of the sport  to the Olympics (the last time was in 1924). The version reintroduced to Rio 2016 was called rugby sevens, with faster play and smaller teams — well suited for Fijians.
https://twitter.com/FijianNextDoor/status/763903167058759680
Fiji's prime minister Frank Bainimarama, who was in Rio during the entire tournament, announced one more day of national holiday (there had been three, already), so that people can celebrate the country's gold medal.
It's a sweet moment for the impoverished South Pacific nation which is still recovering from the devastation of Cyclone Winston in February, and it has all the potential to become one of the feel-good moments of the games, but Bainimarama's radical anti-gay views make it a little hard for us.
♦
It only took 2,160 years, but an athlete was finally able to break a record of twelve individual wins, set by Leonidas of Rhodes in 152 B.C. Last night Michael Phelps won his 13th individual gold for the 200-meter individual medley, bringing his total medal count to 26 (22 of them are gold, including team medals).
According to the Olympics' official website, Leonidas of Rhodes was acclaimed as the greatest sprinter of the Ancient Games. Competing in the Games of 164 BC, he captured the crown in three separate foot races — the stadion, the diaulos, and the hoplitodromos. He repeated this feat in the next three subsequent Olympics, in 160 BC, in 156 BC, and finally in 152 BC at the age of 36. 
But then Phelps happened.
It wasn't even close… #Phelps #Rio2016 pic.twitter.com/O7j9cceGXi

— Bleacher Report (@BleacherReport) August 12, 2016
Here's video of some 15-year-old local swimmer named Michael Phelps when he just maybe hoped to win one medal:
♦
American Simone Manuel made history by becoming the first black female swimmer to win a gold medal.
"This medal is not just for me, it's for some of the African-Americans who have been before me and been inspirations," she told the BBC. "I hope I can be an inspiration for others. This medal is for the people who come behind me and get into the sport."
Simone Manuel's reaction to winning is gold: https://t.co/Exmye0o9Ac pic.twitter.com/NonAl3S3wA

— New York Magazine (@NYMag) August 12, 2016
♦
It didn't take too long…
Bulgarian runner Silvia Danekova has been temporarily suspended after testing positive for EPO, a banned substance that regulates how many red blood cells the body produces (one of the substances Lance Armstrong admitted using). The 33-year-old athlete said she was "shocked" at the results and that the only logical explanation she could give for the positive test was that the substance came from a contaminated food supplement. She was scheduled to compete on Monday, but she's now waiting to hear the result of the test on her B sample.
https://twitter.com/zesty_europe/status/764049814942212096?lang=pt-br
Ryan Lochte goes from platinum to green, with a splash of gold: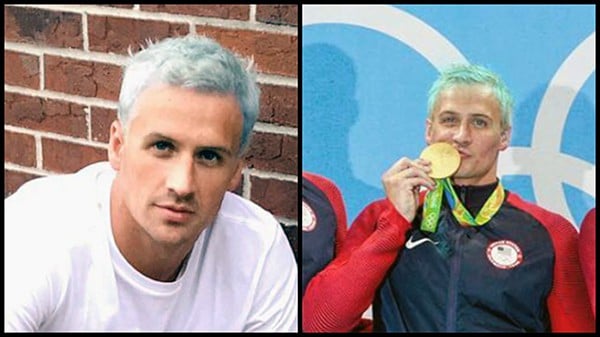 I don't think @RyanLochte realizes what chlorine does to bleach blonde hair. Get a good purple toning shampoo sweetie! 😘

— Sasha Allison (@sashaallison127) August 10, 2016
Photo credit: Ryan Lochte/Instagram
Top photo credit: Amini Fonua/Twitter