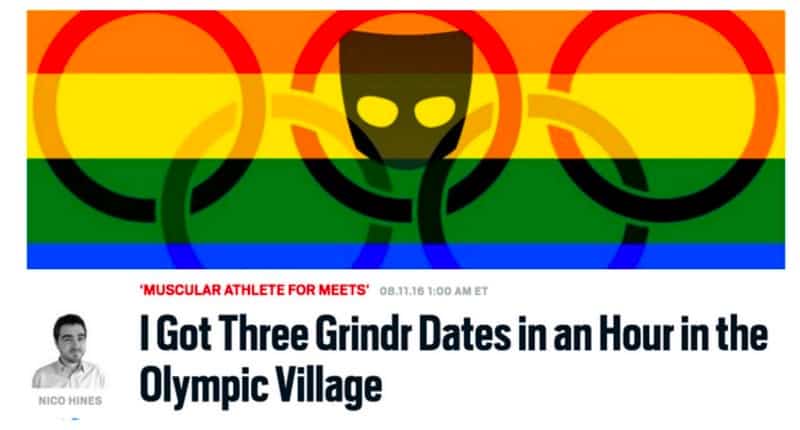 The Daily Beast late on Thursday removed a heavily edited and redacted article written by Nico Hines in which the reporter used Grindr to out gay athletes in the Rio Olympic village, some of whom came from countries where anti-LGBT laws could place them in harm.
The article caused understandable widespread outrage.
The DB called the removal of the article "unprecedented but necessary."
The Daily Beast does not do this lightly. As shared in our editor's note earlier today, we initially thought swift removal of any identifying characteristics and better clarification of our intent was the adequate way to address this. Our initial reaction was that the entire removal of the piece was not necessary. We were wrong. We're sorry. And we apologize to the athletes who may have been inadvertently compromised by our story.
Today we did not uphold a deep set of The Daily Beast's values. These values—which include standing up to bullies and bigots, and specifically being a proudly, steadfastly supportive voice for LGBT people all over the world—are core to our commitment to journalism and to our commitment to serving our readers.
As a newsroom, we succeed together and we fail together, and this was a failure on The Daily Beast as a whole, not a single individual. The article was not intended to do harm or degrade members of the LGBT community, but intent doesn't matter, impact does. Our hope is that removing an article that is in conflict with both our values and what we aspire to as journalists will demonstrate how seriously we take our error.
We were wrong. We will do better.
Many are still calling for the DB to fire Hines.
Amini Fonua, an openly gay Olympic swimmer from Tonga, took to social media with fury.
As an out gay athlete from a country that is still very homophobic, @thedailybeast ought to be ashamed #deplorable https://t.co/qzS9rDFJwx

— Amini Fonua (@AminiFonua) August 11, 2016
Imagine the one space you can feel safe, the one space you're able to be yourself, ruined by a straight person who thinks it's all a joke?

— Amini Fonua (@AminiFonua) August 11, 2016
No straight person will ever know the pain of revealing your truth, to take that away is just… I can't. It literally brings me to tears 😭😭

— Amini Fonua (@AminiFonua) August 11, 2016
Shame this inhumane CREEP who thought it'd be funny to endanger people's lives in the village 🖕🏼🖕🏼🖕🏼 @NicoHines pic.twitter.com/5TTom3i9c6

— Amini Fonua (@AminiFonua) August 11, 2016
Fonua's Instagram was even more illustrative of his anger. Check it out HERE.
Wrote Fonua: "Yo @nicohines &@thedailybeast – if what you were looking for on Grindr was hot ass (and I don't see any other reason why you'd be on there) here you have mine in all its proud glory.
Now, kiss it and f**k off 👅🖕🏼 #pride"
Hines' Twitter has been silent about the article.