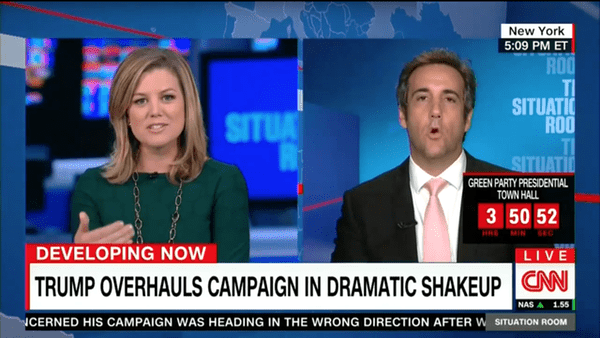 Trump counsel Michael Cohen refused to acknowledge on Wednesday that Donald Trump is getting, to use a Trumpism, schlonged by Hillary Clinton in the polls.
In an interview with CNN's Brianna Keilar about the campaign shakeup that saw the installment of two anti-LGBT right-wing politicos as the leaders of the Trump campaign, Cohen denied that the staff reshuffling was in fact anything "dramatic" or newsworthy.
When Keilar told Cohen, "You guys are down," Cohen interrupted, asking, "Says who?" His response sounded almost perfectly like one you might hear from a character in Goodfellas.
Astounded, Keilar responded back, "Polls. Most of them. All of them."
After what seemed an interminably long awkward silence between them, Cohen again asked, "Says who?" Keilar retorted again, "Polls. I just told you. I just answered your question."
Cohen then questioned, "Which polls?" "All of them," Keilar said. Cohen finally closed the repartee by saying rather bizarrely, "Okay, and your question is?"
https://www.youtube.com/watch?v=m-Z9lTUu3e8
Earlier in the interview, Cohen slammed the way the network was covering the news Wednesday about the Trump campaign's staff shakeup.
"There's no shakeup. Look at the words that you use and you blast at the bottom of your banner. Shakeup, overhaul, dramatic, desperate measures. There are no desperate measures," Cohen said on CNN.
"These terms are not indicative of what's going on at the campaign. All that Mr. Trump has done is he has added to the existing group of winners that he has hired for the campaign."