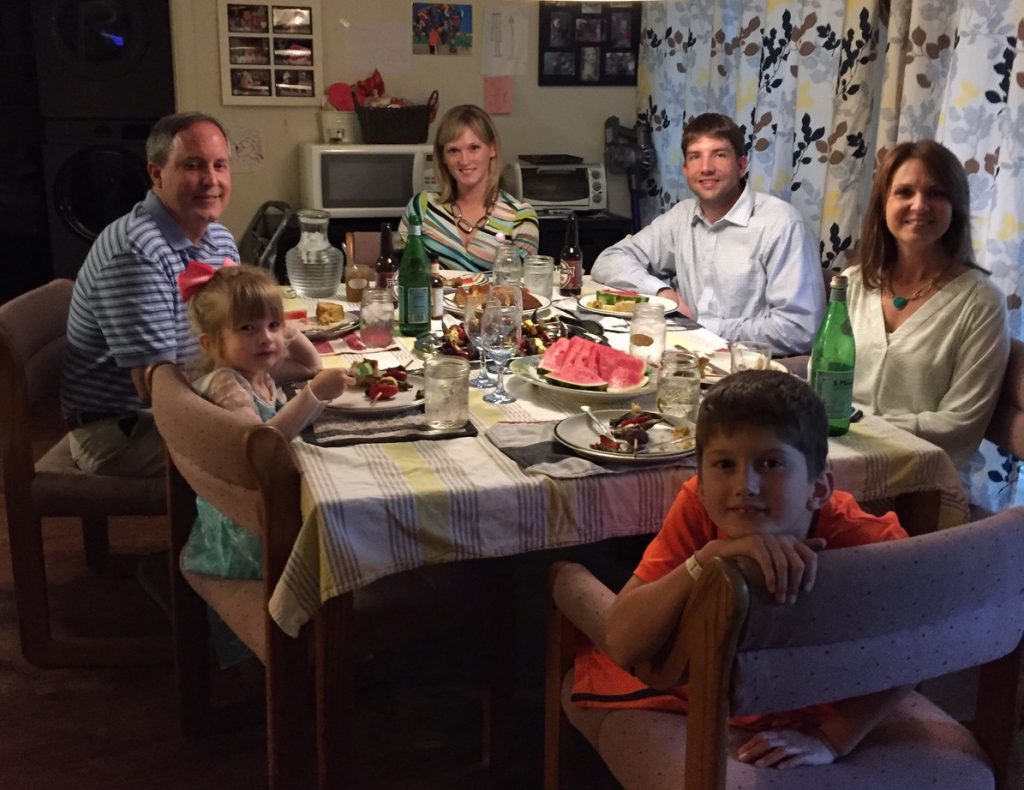 Rabidly anti-LGBT Texas Attorney General Ken Paxton, who's behind two federal lawsuits seeking to legalize discrimination against transgender people, had dinner with the family of a trans boy on Thursday.
Paxton recently accepted a longstanding invitation from Amber and Adam Briggle, the parents of 8-year-old MG.
Equality Texas reports: 
Last May at an Equality Texas press conference, Amber challenged Attorney General Paxton, Lt. Governor Dan Patrick and other leaders to sit down for dinner with her family and get to know them, so they will understand, they are just like everyone else. They are an ordinary Texas family who has been forced into the spotlight to protect their child. Yet the Briggles are not alone in this: There are at least 140 parents of transgender children from the Dallas Fort Worth area.
"I invited Attorney General Ken Paxton to sit down with our family and get to know his constituents and fellow Texans. I am pleased the attorney general took the time to visit with our family and to meet our son and to have a conversation with our family. We are Texans, just like everyone else.  My most important job in life is being a mom, and my son and his safety are my top priority. Since the attorney general has never met an openly transgender child, Adam and I felt that it was important for him to meet our amazing son, so that he could put a face to this issue. We expressed to him that it is his job as attorney general to protect the rights of all Texans, including transgender kids like MG, and we hope that after meeting our family, he will see that these disciminatory lawsuits and actions put our child in danger and affect his ability to succeed in school."
Adam added "I hope that this meeting can set a tone of civility for our public discussions about LGBT issues. The dinner table is where we gather to share and celebrate our common humanity — love and family, hopes and worries, laughter and tears. At our meal together, I think we all were reminded that behind the political disagreements there are genuine and caring human beings who are striving to do the right thing as best as they can see it. Sympathy is the wellspring of morality and it can only be cultivated through sincere and friendly conversations like we had last night. I'd like to encourage other LGBT families to invite public officials to dine with them, and I hope those public servants will follow the example that the Paxtons set by so graciously accepting our invitation."
Paxton, who was in court Friday for a hearing in the civil fraud lawsuit brought against him by the Securities and Exchange Commission, has not commented on the dinner. Paxton is also facing first-degree felony criminal charges for alleged securities fraud.
More from The Denton Record-Chronicle:
Amber and Adam Briggle confirmed that Paxton and his wife, Angela Paxton, came to their home at about 6:30 p.m. and stayed for about two hours. The Briggles said the two couples found that they had a lot in common, including places they lived and visited, the bonds they have with family pets and the love they have for their children.
"Honestly, it was a very pleasant evening," Amber Briggle said. …
The couple didn't ask Paxton for anything specific in relation to the federal lawsuit or legislation, Adam Briggle said. Instead, they asked the attorney general to remember them when considering their actions in the future.
"Your job is to protect all Texans," Amber Briggle said.