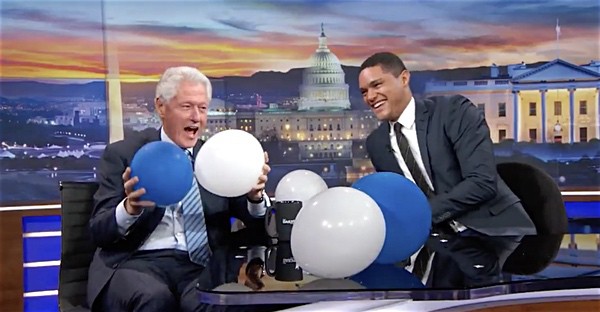 President Bill Clinton sat down with Trevor Noah at The Daily Show last night and reflected on growing up in rural Arkansas using the outhouse, current politics, and the changes we've seen in the American electorate since he ran for president.
Said Clinton:
"For most of my life, each political party had a 40 percent base and then there were 20 percent that were generally up for grabs but the time that the 2000 race came along between Al Gore and President George W Bush it was probably down to 10. It may be down to less now, because we're getting siloed. We're siloed in the tv shows we watch and the websites we scan. Everything. America has come so far. We're less racist, sexist, homophobic and anti-specific religions than we used to be. We have one remaining bigotry. We don't want to be around anybody that disagrees with us."
The audience laughed at that line but Clinton called them on it: "The crowd's laughing but they didn't laugh loud because they know I'm telling the truth."
Clinton launched a truth bomb on Donald Trump: "Most of [Hillary's] strongest supporters have either worked for her or done business with him."
And he talked about what would happen with the Clinton Foundation if Hillary is elected:
"If she becomes president, I would just not take foreign money, not take corporate money, farm out all our international operations to others, and I'm in the process of doing that. Make those that should stay together independent of me, and remove all questions of conflict. I think we can do that."
And while there may not be a lot to smile about this election season, there is one thing that will light up Bill Clinton: balloons!
Watch:
Former President @billclinton weighs in on the harmonious lovefest known as the 2016 presidential race. pic.twitter.com/8IstR3TolG

— The Daily Show (@TheDailyShow) September 16, 2016