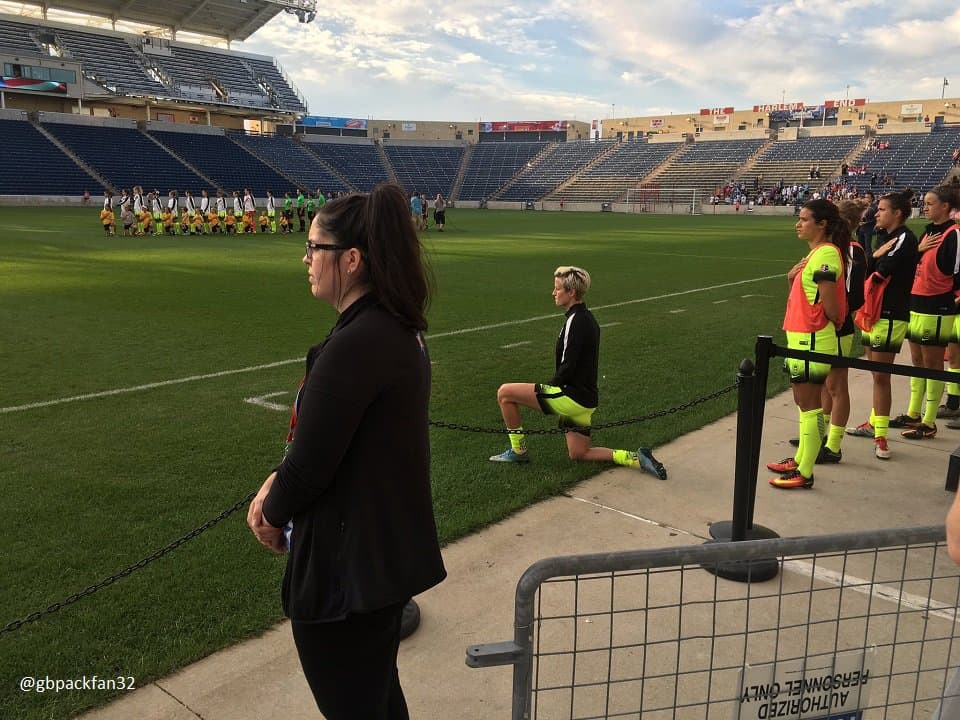 On Wednesday night, Bill Lynch, the owner of the Washington Spirit soccer team, took it upon himself to personally thwart protest of the National Anthem by FC Reign star Megan Rapinoe, and broadcast the national anthem while teams were in the locker room.
This prevented Rapinoe from refusing to stand during it, as she did on Sunday night in solidarity with 49ers star Colin Kaepernick. Kaepernick has been refusing to stand as a protest of the nation's treatment of black people, and Rapinoe said she was also doing it for gay people.
Rapinoe, a US national team member who plays for the Seattle Reign, and members of both teams warmed up for about 25 minutes following a rain delay. They then left the field before the anthem and returned shortly after for the start of the game.
On Sunday Rapinoe said:
"It was very intentional. It was a little nod to Kaepernick and everything that he's standing for right now. I think it's actually pretty disgusting the way he was treated and the way that a lot of the media has covered it and made it about something that it absolutely isn't. We need to have a more thoughtful, two-sided conversation about racial issues in this country.
"Being a gay American, I know what it means to look at the flag and not have it protect all of your liberties. It was something small that I could do and something that I plan to keep doing in the future and hopefully spark some meaningful conversation around it. It's important to have white people stand in support of people of color on this. We don't need to be the leading voice, of course, but standing in support of them is something that's really powerful."
Lynch wasn't having it, and sent out a lengthy press release about the same time he broadcast the national anthem, which you can read below:
Statement from Washington Spirit owner Bill Lynch on decision to play national anthem with teams not on field. #NWSL pic.twitter.com/RKgkIyvHUb

— Jeff Kassouf (@JeffKassouf) September 7, 2016
Lynch said he was preventing fans and friends from being subject to disrespect from Rapinoe, and said he objected to her "hijacking" the national anthem for "a personal – albeit worthy – cause."
Lynch explained that as a veteran-owned team, he couldn't allow it.
Rapinoe reacted in an interview with the Washington Post:
"I didn't hear it and I wasn't exactly sure why it wasn't played. It's [expletive] unbelievable. Saddened by it. It's pretty clear what the message is I am trying to bring to light in Chicago and what I continue to try to talk about the last few days. Clearly with [Spirit owner Bill Lynch's] actions, it's a necessary conversation. It was incredibly distasteful, four days before one of the worst tragedies in our country, to say that I tried to hijack this event. … It's just really disappointing and disrespectful. We want to talk about disrespect, and me disrespecting, he didn't even give both teams a chance to even stand in front of it and show their respects. It's unbelievable. It's truly an unbelievable act to me."