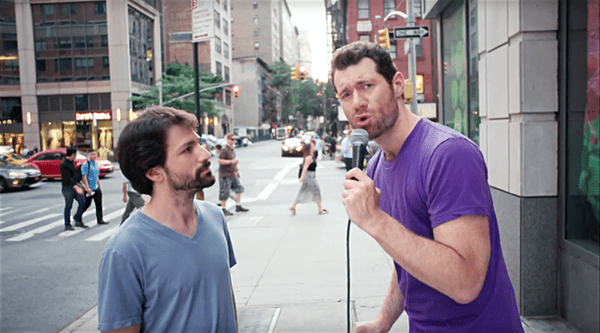 Billy Eichner is back for new episodes of Billy on the Street that promise plenty of celebrities and jabs at Donald Trump.
In a trailer for the fifth season of the TruTV show we see Eichner troll the streets of New York with guests Jon Hamm, John Oliver, Seth Rogen, Andy Samberg, Keegan Michael-Key, Lupita Nyong'o and Aziz Ansari.
Games to expect from new episodes of Billy on the Street? Name a racist. Name a liar. (Hint, hint.) Chris Hemsworth or Someone Had to Try? Believes in Ghosts or Can't Eat Toast? Jabba the Hutt or Just Some Gay Guy?
Watch the trailer, below.