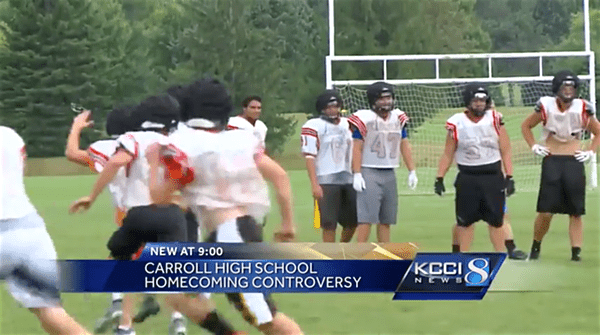 A high school football team in Iowa is under investigation after a group chat among some of its players was discovered showing players using gay slurs in describing a fellow student.
Members of the Carroll High School football team were reportedly upset that a gay student was named to this year's homecoming court. While the specific slurs the players used against the student in the group chat have not been named, members of the football team reportedly said the student should go kill himself or die.
"Well I certainly think this gives some individual students a black eye, as well as the football team," [Superintendent Rob] Cordes said.
Cordes discovered a copy of a group chat in which players used slurs against the gay student on the homecoming court.
The football players' chat happened Friday night. One player's text said the gay student should kill himself, or go die. Another said he would drop out if the gay student stayed on the homecoming court.
The student who was targeted said he hopes the incident will be a teachable moment for the football players and for the rest of his school.
Superintendent Cordes said the players accused of wrongdoing already regret their actions. "And I can tell you for a fact there is a lot of them hurting," Cordes said. "And some of the ones hurting are the ones that caused the problem."
No punishment has yet been doled out to the students in question.
Watch a report from KCCI, below.