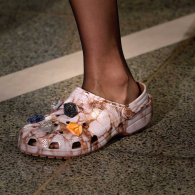 FASHION. Scottish designer Christopher Kane created some sort of high-fashion rock croc. 
OPINION. Hillary Clinton is the best person to be standing between Donald Trump and the presidency: "It's not just that she is exponentially more capable, prepared, and temperamentally suited to lead—all the qualities and competencies that are evident to even the most cursory glances—but also that Trump's egregious assault on decency is deeply personal to her in a very concrete way."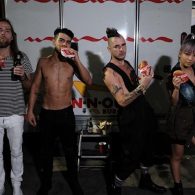 CELEBRITY INSTAGRAM. Joe Jonas continues to try and out-ab brother Nick.
MEXICO. Photographer who took iconic image of young boy blocking anti-gay protests gets death threats: "I got a call on Tuesday calling me a faggot, telling me that I'm going to pay for photographing the march."
ONCE UPON A DECEMBER. First teaser trailer for Broadway's Anastasia is here: "The musical will be a fresh take on the classic animated film, which tells the story of a 'brave young woman attempting to discover the mystery of her past while finding a place for herself in the rapidly changing world of a new century.'"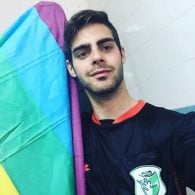 SOCCER. Spain's first openly gay futbol ref now needs police protection because of the death threats he is receiving: "For a little over a week, Jesús Tomillero has been living with police guards outside his home in La Línea de la Concepción, Cádiz, and does not go outside without them due to increased death threats…"
GAYS GONE BY. One of Massachusetts' oldest gay bars is closing: "Fran's Place, among the oldest gay bars in Massachusetts, will close in a week. The bar and restaurant has been around for decades, but after Monday, September 26, it will be a memory, as the business is getting sold, NECN reported."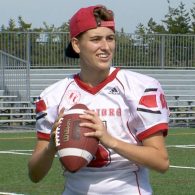 CANADA. Transgender teen makes history by becoming first trans player on high school football team: "Everybody was so accepting, it's amazing,' Cooley says. 'You feel like you're a brother, you don't feel like you're a player. They're just so open and they accept you for who you are.'"
ARIZONA. Judge refuses to hand anti-gay calligraphers license to discriminate: "On Monday, Judge Karen Mullins rejected the artists' claim that being required to serve same-sex couples violated their freedoms of speech and religion. She denied them a preliminary injunction as the case proceeds, sending a not-so-subtle hint that their pro-discrimination claims aren't going to get very far."
TOO HOT FOR TUESDAY. Ricardo Costa.