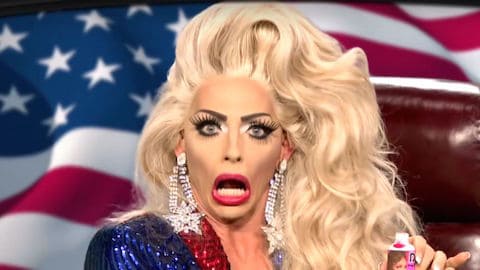 Last week's epic episode not only delivered high drama, but apparently it also served up some seriously high ratings as well. It was such a high-water mark for the series that any follow-up episode was going to feel a little lacking. Last night's installment turned the work room into more of a boardroom, which is about as much fun as it sounds.
Yes, even drag queens — supposedly our most irreverent artists — are slaves to the marketing machine. Just like bottled water or a bank or Doritos, drag queens also need to worry about their brand. The remaining six queens were tasked with creating a product that represented their personal brand and then filming a commercial.
We're breaking down the top sellers in our SPOILER-filled recap, and if you order now, we'll throw in our weekly rankings of the queens at no extra charge. Operators are standing by, below.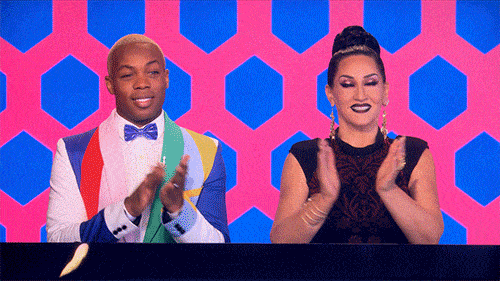 I get that RuPaul is very into the importance of branding, and she's right! Branding is important! And Ru is a great example of someone who truly has built an empire around a very specific and well-developed brand. But! I think it's a bit of stretch to expect every drag queen to be so savvy. That's evidenced each time this sort of challenge is presented. Most of these girls have a hard time wrapping their minds around creating this sort of far-flung empire.
It seems like a particularly strange skill to stress, especially when the show has removed most sewing/construction challenges — skills that seem much more relevant and important to a successful drag queen. Whatever. It's RuPaul's world, what she says goes and we're going to roll with it.
Before we get to the meat of the maxi-challenge, we have to confront Phi Phi's mirror message, I guess. In possibly the most desperate move in a series of really pathetic and desperate moves, she writes one big final mirror message explaining that she avoided hugs, because she was afraid she would cry? Which is strange? Because she hugged everyone else just fine?
In all the absolute garbage reality-TV I've mainlined over the years, I don't know that I've ever encountered a character that was at once so hyper-self-aware and lacking all self-awareness all at once. Maybe Honey Boo-Boo? (Like Phi, she did also started as a pageant queen. If I catch Alana doing some kind of 365 Days of Roadkill Instagram series, I'm going to get seriously suspicious.)
Now let's all agree to never speak of Phi Phi again.
Last night saw the return of the mini-challenge, and boy was it a silly one. Each gal had to whack a ball putt-putt style along a course, through the legs of Pit Crew members and into a hole using only a … well, actually, I don't know what to call it. It was a sort of pendulum that hung like a super saggy scrotum between their legs.
The resulting game was more croquet than golf (they call it "butt-butt," but I feel like "crogay" would've been better), and it mostly served as an excuse for the gals to rub all up on the Pit Crew. Alaska wins, but it truly does not matter. It just earns her a bunch of designer boy clothes which I am not interested in at all.
About that branding challenge. Ru brings in Marcus Lemonis from CNBC to give overly earnest and serious business advice to these IMAGINARY DRAG QUEEN GAG GIFTS, and all the ladies listen solemnly to his critiques. It's very strange. I sort of wonder if his appearance was a weird, drag Jedi mind trick.
The queen he tells to scrap her whole idea (Katya) ignores him and ends up in the top, while the one who took his advice (Roxxxy) and the one he liked the most (Tati) were both in the bottom. Go figure! Ru did have to explain how a lace-front wig works to him at one point, so maybe he's not exactly the most qualified person for this role.
Alaska joins Katya in the top, of course. After a pants (pants, PANTS!) on the runway show, Alaska and Katya serve Joan Jett rock 'n' roll lip sync to "Cherry Bomb" with Alaska named the winner. (It was a strange, plodding song to dance to, but Alaska's final kicks really sold it.) Long live RoLaskaTox, apparently, because she chooses to save Roxxxy, despite this being Ms. Andrews' fourth time in the bottom. Tatianna is sent packing.
That means there are only five ladies left. Let's see where they landed in our rankings: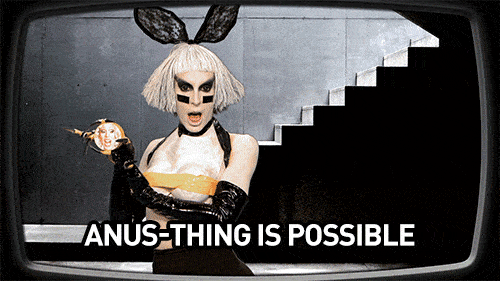 1. I mean, we should just hand the win to Alaska now, right? She is dominating the entire competition, and it doesn't even seem like she's breaking a sweat. She even won the nonsensical mini-challenge with ease. Her commercial evidenced a layer of sophistication and vision that no other queen even came close to achieving. I might have wagered her runway look would've drawn more criticism than it did, but that American flag reveal was worth the questionable wig.
Considering how much she struggled with choreo during her season, I'm also surprised at how skillfully she's figured out how to transform her awkward, gangly weaknesses into uniquely entertaining strengths during the lip syncs. She might be unstoppable.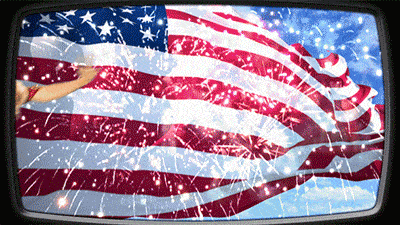 2. The only gal who might pose a threat to Alaska's assumed victory is Alyssa Edwards. The beloved Texas beauty is adored by the judges (and fans). Now that the majority of acting/comedy challenges are likely behind us, she stands a much stronger chance to outlast her competitors.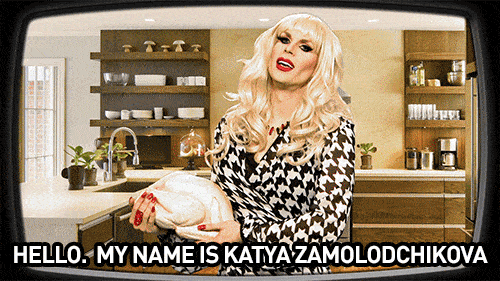 3. It was a strong showing from Katya this week, but it didn't feel as momentous as others' victories. She wisely ignored the advice of Marcus Lemonis, and her commercial was better for it. She went in with a much more conceptual approach to her ad, but she didn't stick the landing as well as Alaska.
I love that she incorporated her own struggles with anxiety (very on-brand!), and I enjoyed her spin on a very campy, 1950s sort of commercial for the hopeless housewife. She definitely earned her spot in the top, but I agree she was out 'synced by Alaska. (That Neve Campbell look was fierce, though.)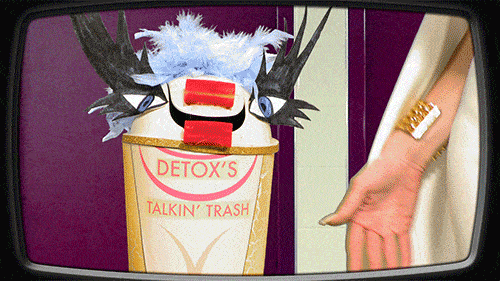 4. Was it just me, or was Graham Norton's criticism of Detox's prototype unnecessarily harsh? She's not an engineer, gurl! It was hokey, but it was cute. I love Detox, and she's been pretty consistent this whole season. I just haven't really been blown away yet, and it's too late now to shake Alaska or Alyssa.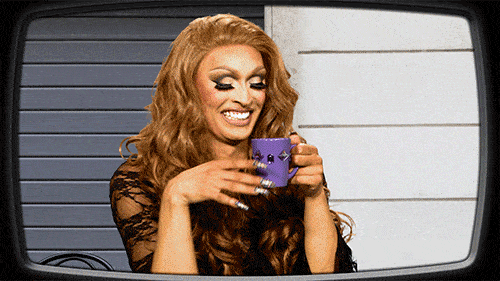 5. Tatianna's runway look. Tatianna's runway look. Tatianna's! Run. Way. Look! Gagging even doesn't do it justice. It transported me back in time to when I was a little gay boy spending hours memorizing the entire rap verse to "Waterfalls" instead of going outside to play baseball or whatever. It left me SLAYED (or, one might say, another body laying cold in the gutter). Her commercial was FINE, and she definitely bested Roxxxy on the runway.
I do not understand Alaska's logic (or should I say choices) here. I see how it was hard to compare apples to apples, since we don't know how Tati would have performed in the two challenges she missed. But, even if she was in the bottom for both, that still would've tied her with Roxxxy for most times in the bottom. Plus, technically Tatianna had one more win than Roxxxy, and her runway was far superior. I am not pleased. Not pleased at all.  Considering how beloved Alaska, Alyssa and Katya already were, I feel like Tati has made the most with her second chance on TV.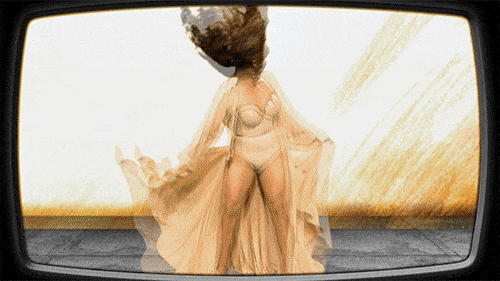 6. Ugh, Roxxxy! You were done, I was done, we were all done. It was painful to watch her try to think through her commercial concept, and what was that runway look? She looked like David Beador at the Real Housewives of Orange County '70s party. No thanks. In the immortal words of NeNe Leakes: "Go home wig. Goodbye wig. Go away. Bye wig." Unfortunately, next week's family-themed challenge seems like it might set Roxxxy up for an emotional episode and triumphant victory.
How would you rank the queens this week?