GIF OF THE DAY. The backdrop set up for Donald Trump's speech about President Obama's citizenship collapses moments after Trump exits.
https://twitter.com/gabriellahope_/status/776838486645174273
EVENT TELEVISION. First photo of Jessica Lange as Joan Crawford in Feud about the making of What Ever Happened to Baby Jane? Susan Sarandon is playing Bette Davis and Catherine Zeta-Jones is playing Olivia de Havilland.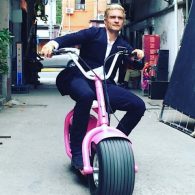 CELEBRITY INSTAGRAM. Orlando Bloom goes blond, Lady Gaga teases her new music video, Adam Lambert does a spit take…and more. 
WATCH. Michelle Obama goes to the mattresses for Hillary on the campaign trail: "Hillary has the resilience that it takes to do this job. See, 'cause when she gets knocked down, she doesn't complain, or cry foul. Nah, she gets right back up, and she comes back stronger for the people who need her the most."
FASHION. Marc Jacobs causes controversy on the runway with rainbow-colored dreadlocks worn by predominantly white models: "…Palau told Harper's Bazaar that the aesthetic was inspired by trans director and spring/summer 2016 campaign star Lana Wachowski as well as 'certain types of cultures, like rave culture, club culture, acid house, Boy George and Marilyn.' While it is true that dreadlocks have been linked to other cultures, they are a mainstay in black culture, a manageable means of protecting strands, a symbol of black pride in a society that stigmatizes textured hair while privileging straight hair." Jacobs is unapologetic.
Watch our Marc Jacobs Spring '17 show in 15 seconds, or in its entirety on https://t.co/lPefBl9Fnu ✨ pic.twitter.com/LRWwrXlEHH

— Marc Jacobs (@marcjacobs) September 15, 2016
https://twitter.com/macytweets2u/status/776484707810803712?ref_src=twsrc%5Etfw
BIRTHERISM. Members of the Congressional Black Caucus PAC rip Donald Trump for not apologizing for questioning Barack Obama's citizenship for the last 5+ years: "We're not going to take it anymore. We will not elect a chief bigot of the United States of America."
MICHELLE RODRIGUEZ. Actress defends her movie (Re)Assignment from criticism: "I'm bisexual so I would never in my life do anything that would hurt the LGTB community…I don't think it's gonna offend anybody and they should chill out."
MONEY. Gay male couples out earn straight couples by more than $60,000: "That's in part because of the gender pay gap, according to an Upshot storyin the New York Times, which affects only one half of a couple's income in a heterosexual couple. Child care expenses also play a role. Same-sex female couples are four times more likely than same-sex male couples to have children."
CONFESSIONS OF A RENT BOY. Gay Muslim refugee turned rent boy living in London reveals blind items about his famous and political clientele: "The-politicians think I don't know who they are, but I'm not stupid…I met one member of the House of Lords, a man who used to be married many years ago. Before he was ennobled he was MP for one of the poshest London constituencies. He told me he was in the closet then. He was married and had a son. Now he is a grand-father and open about his sexuality. I liked him."
LOOK. Justin Timberlake plays a sexy lifeguard from the 50s in Woody Allen's upcoming as-yet untitled movie.
PRESIDENTIAL DEBATES. Libertarian Gary Johnson and Green Party candidate Jill Stein have failed to meet the polling qualifications required for them to be included in the first presidential debate.
It's official, Trump and Clinton will be the only ones on debate stage, per commission pic.twitter.com/TwPNm5LhEV

— Hadas Gold (@Hadas_Gold) September 16, 2016
FRIDAY FLESH. Male model Ola J. Adeyemi.