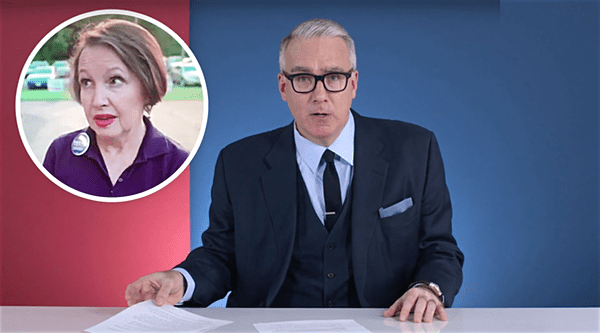 Keith Olbermann took a look at the racism underlying Donald Trump's campaign for president in his latest episode of his new web series The Closer.
Said Olbermann sarcastically, "I don't know if you've noticed it, but there's a slight undertone of racism to Donald Trump's campaign. No! Really! And of course when I say 'slight undertone' I mean something approximately the size of the SKY."
Olbermann focused on The Guardian's interview on Thursday with Trump's Mahoning County, Ohio campaign chair Kathy Miller, in which Miller said there was no racism before President Obama took office.
Said Miller,
"If you're black and you haven't been successful in the last 50 years, it's your own fault. You've had every opportunity, it was given to you."
"You've had the same schools everybody else went to. You had benefits to go to college that white kids didn't have. You had all the advantages and didn't take advantage of it. It's not our fault, certainly."
Kathy Miller ended up resigning her post on Thursday.
But as Olbermann points out, Miller resigning doesn't change one simple fact about her involvement with the Trump campaign: "[Kathy Miller] is the Trump campaign. She is him. She is all of them. Living a whole life made up of, 'If it didn't happen to me, it didn't happen.'"
Preach.
Watch, below.