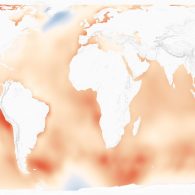 CLIMATE CHANGE. Oceans are absorbing almost all of the earth's excess heat: "The oceans act as Earth's enormous heat sponge, sheltering continents and the people who live on them from atmospheric extremes. The near-surface ocean takes only decades to warm in response to elevated greenhouse gas concentrations, but the deep ocean will take centuries to millenniums, raising sea level all the while. In the meantime, warmer ocean temperatures may also increase the destructive potential of extreme weather, like cyclones and hurricanes."
FIRST LOOK. Teen Wolf / Maze Runner star Dylan O'Brien in American Assassin.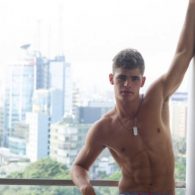 MALE MODEL MONDAY. Johan Bruinsma.
DEPLORABLES. Audio of Trump campaign manager Kellyanne Conway appears to show that she also thinks some of Trump's supporters are rather "nasty." Trump meanwhile says that Hillary should quit the campaign because she hasn't recanted her remark about 'deplorables.'
STAND BY YOUR MAN. Trump's VP pick Mike Pence won't say that the former Grand Wizard of the KKK David Duke is "deplorable" because he's "not a name caller."
Mike Pence doubles down, won't call David Duke "deplorable" because "i'm not a name caller, I don't play that game": pic.twitter.com/KSYw4K1WSv

— Brendan Karet 🚮 (@bad_takes) September 12, 2016
PERFECT ILLUSION. Lady Gaga says the song is not about Taylor Kinney: "I would never use my song or want to use the public to hurt anyone that I love so much."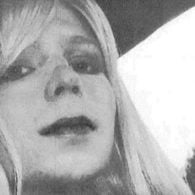 CHELSEA MANNING. The imprisoned whistleblower starts hunger strike, says she is bullied in prison: "The former army intelligence analyst released a statement on Friday in which she gave an impassioned explanation for why she had taken the decision to stop consuming any food or fluids other than water and prescribed medicines. She said she had reached the decision after six years of military confinement in five difference locations during which her appeals for help had been 'ignored, delayed, mocked, given trinkets and lip service by the prison, the military, and this administration.'"
MODERN CELEBRITY. Miley Cyrus is over the red carpet because it feels like a skit out of Zoolander.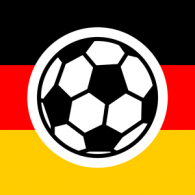 SOCIAL MEDIA. German football (soccer) player comes out as gay on Reddit (allegedly) but won't reveal his identity: "The anonymous player, who plies his trade in the German Third Division, revealed a handful of details about himself, including his age (20 years old) and wage (€9,000 per month, or around £7,600) – and used the Q&A-style 'AMA' thread to answer some questions from users about his life."
HMS TERROR. Sunken ship found in the Arctic 168 years after failed attempt at discovering the Northwest Passage: "The long-lost ship of British polar explorer Sir John Franklin, HMS Terror, has been found in pristine condition at the bottom of an Arctic bay, researchers have said, in a discovery that challenges the accepted history behind one of polar exploration's deepest mysteries."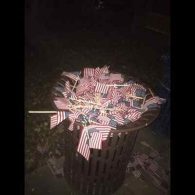 9/11. Memorial at Occidental College in California to honor victims of the terrorist attack vandalized: "Nearly 3,000 flags planted around Occidental College to remember the victims of the 9/11 terrorist attacks were trashed, prompting questions and outrage on the campus. The incident was followed by a flurry of statements by student groups at the Eagle Rock campus as well as a vow by university administrators to investigate what happened."
MOVIES. Fifty Shades Darker gets new teaser ahead of full trailer being launched tomorrow.
MISTER MONDAY. Alxez.