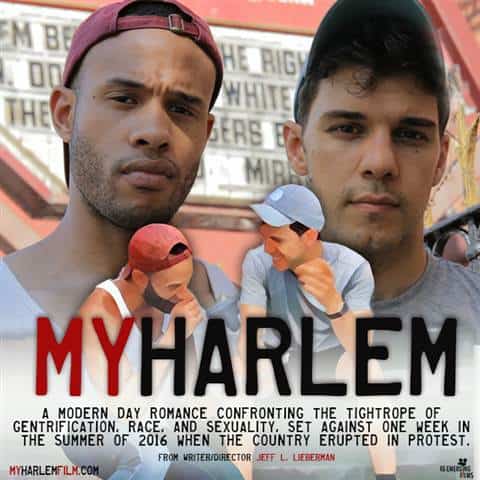 Director Jeff L. Lieberman is set to take a shot at anti-LGBT Harlem Pastor James David Manning.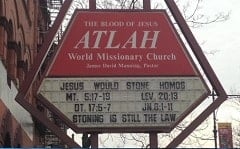 Last year, birther and conspiracy theorist Manning hit the headlines for posting homophobic signs outside his ATLAH World Missionary Church. The signs included "Jesus Would Stone Homos" and "all churches and members that support homos cursed be thou with cancer, HIV, syphilis, stroke, and madness." Earlier this month, "sodomite slayer" Manning said "Everyone who has a penis injected in his bu**hole, when his penis comes out, the flames will start burning cause ain't nobody gonna stick no penis in that flame. That flame," he continued, "will be an eternal flame coming out of the bu**hole of every sodomite."
Lieberman's new film My Harlem examines important themes including homophobia, gentrification and violence against the LGBTQ community. In the film, the two main characters initially bond over an anti-gay sign outside ATLAH.
In an interview with NBC, the Vancouver native explained:
"The ATLAH sign is something that has been bothering me for a long time — both on a personal level and on a greater level of human rights and hate speech. It's just an ugly, ugly place of hate in my neighborhood during the 5 years I have lived in Harlem. I think a lot of people are fed up and exasperated with the sign, the church and the pastor and have tried many different ways to combat the hatred. It would be one thing if they were preaching from inside the walls of their church, it's another thing for it to be seen every day, 24 hours a day, every week — it's a new level of vitriol. I felt like I wanted to do something, take some kind of stand."
https://twitter.com/treythetruth213/status/776536803108990977
In January, a judge ordered Manning's church be put up for public auction because Manning has failed to pay $1.02 million in public debts. Manning said that these debts are mostly related to unpaid water and sewage bills which he believes he doesn't have to pay because of ATLAH's tax exempt status. In August, a judge rescinded the court order until it is decided whether or not the church owes the city for water and sewerage use. Manning announced plans to burn a pride flag at the church in celebration of the ruling.

Watch a teaser for the film: