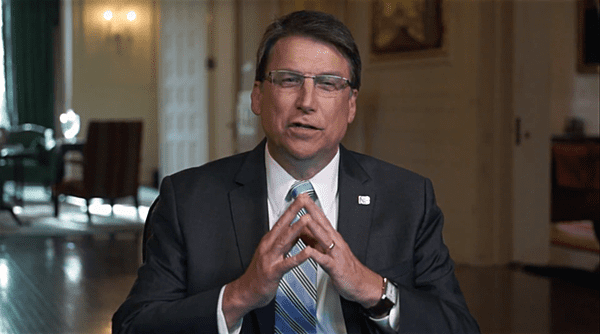 North Carolina Governor Pat McCrory blasted the NCAA on Tuesday for pulling all championship events in 2016 and 2017 from the state because of its record on LGBT rights.
In a statement, McCrory called the NCAA a "multi-billion dollar, tax-exempt monopoly" and implied the organization was suing "economic threats" and "political retaliation" to redefine "gender and basic norms."
McCrory said that the decision about HB 2, the state's anti-LGBT 'bathroom bill', which also banned all local civil rights ordinances in the Tar Heel state, will ultimately be decided by the U.S. legal system.
"The issue of redefining gender and basic norms of privacy will be resolved in the near future in the United States court system for not only North Carolina, but the entire nation. I strongly encourage all public and private institutions to both respect and allow our nation's judicial system to proceed without economic threats or political retaliation toward the 22 states that are currently challenging government overreach. Sadly, the NCAA, a multi-billion dollar, tax-exempt monopoly, failed to show this respect at the expense of our student athletes and hard-working men and women."
In its decision issued late Monday, the NCAA made clear that it had serious doubts about North Carolina's commitment to fairness, particularly because of HB 2.
The Board of Governors views North Carolina differently from states that have similar laws for these reasons: pic.twitter.com/SO8vNsvCPE

— NCAA (@NCAA) September 12, 2016
As ABC 11 notes, there are 7 championship events that will be pulled from North Carolina as a result of the NCAA's decision:
2016 Division I Women's Soccer Championship, College Cup (Cary), Dec. 2 and 4.
2016 Division III Men's and Women's Soccer Championships (Greensboro), Dec. 2 and 3.
2017 Division I Men's Basketball Championship, first/second rounds (Greensboro), March 17 and 19.
2017 Division I Women's Golf Championships, regional (Greenville), May 8-10.
2017 Division III Men's and Women's Tennis Championships (Cary), May 22-27.
2017 Division I Women's Lacrosse Championship (Cary), May 26 and 28.
2017 Division II Baseball Championship (Cary), May 27-June 3.