Since there have been "openly gay" people, New York City has been the destination of dreams and realities for more of us than any other metropolis, due in no small part to the fashion, art and media industries.
New York City, and its flagship industries have changed fairly dramatically over the past few decades, as have the identities making up LGBT. Richard Haines is a pioneer in this world, living in Bushwick, and starting a new career mid-life, and he's the first profile of our new video season.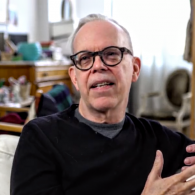 Haines' New York Story has taken him from illustrator to fashion designer and back again. In this video he tells Towleroad about working in the city, the source of his success and ambition, and why there is a particular affinity between gay people and the fashion industry.
His work is beautiful and it has found its proper and devoted following in the world of style, art, and fashion. He has got energy to share and has found a home in the Bushwick neighborhood of Brooklyn.
As we did in Provincetown last year, we set out to interview some of the most creative up-and-comers whose choices and careers seem intertwined with this (albeit much bigger) city — to not just be inspired by their stories, but to investigate whether the destination of dreams is still that, and if gay identities and New York's glamorous industries remain a match made in heaven in the era of legalized LGBT unions.
We're proud to present this second series of AskTell Act, New York edition, sponsored again by Lexus, a company that has made its mark both in the leading design industries as well as with LGBT consumers.