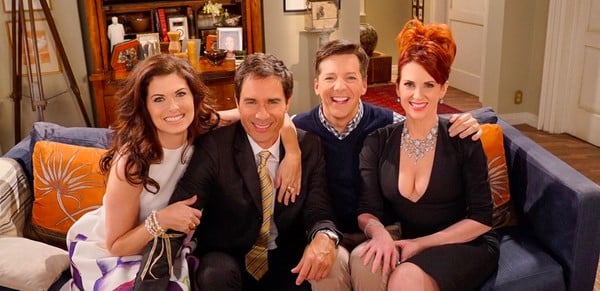 Need to ease some pre-debate jitters? The Will & Grace cast have reunited ten years after the show's finale for a new scene about the presidential election.
Will and Grace are understandably mortified that Trump is the Republican nominee for president, Karen Walker just spent the weekend with Donald and Melania at Mar a Lago, and Jack is an "unemployed, uneducated angry white man" who is registered to vote in Pennsylvania, and convinced to vote for the right candidate in the end.
And Rosario, as usual, has the last laugh.
Also dished in the new scene: 50 Shades of Gray, Brad Pitt and Angelina Jolie, Rachel Maddow and a miniature horse named Ann Coulter, The Ryan Lochte Dancing with the Stars attack, Hamilton, President Obama and more…
Watch:
https://www.youtube.com/watch?v=jzae4DKexko