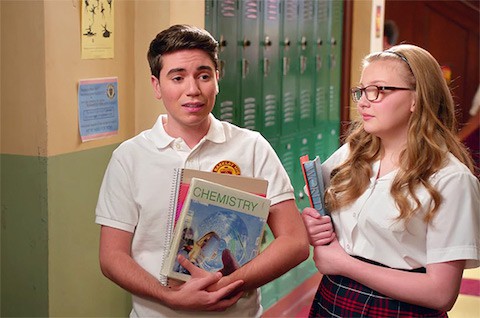 Check out our weekly guide to TV this week, and make sure you're catching the big premieres, crucial episodes and the stuff you won't admit you watch when no one's looking.
Filmmaker Sharon Shattuck shares her real-life Transparent story in From This Day Forward, tonight at 10 p.m. Eastern on PBS's POV. The documentary chronicles her father's transition from male to female, and the way it evolved relationships with her and her mother.
It's time for the second season of The Real O'Neals, premiering Tuesday at 9:30 p.m. Eastern. The series, starring openly gay actor Noah Galvin and Martha Plimpton, is loosely inspired by executive producer Dan Savage's own experience growing up gay in a Catholic family.
You could just drink a bottle of wine and hate-watch Roland Emmerich's Stonewall, but it's much more fun to leave the sloppy storytelling to professionals. This week's episode of Drunk History gets a storyteller plastered and then reenacts their version of the Stonewall riots verbatim. Transparent stars Trace Lysette and Alexandra Grey make appearances on the episode, Tuesday at 10:30 p.m. Eastern on Comedy Central.
https://www.youtube.com/watch?v=a0P_Z8_Ce80
ABC's Modern Family gets an extra dose of handsome with a guest appearance by Nathan Fillion, Wednesday at 9 p.m. Eastern.
https://www.youtube.com/watch?v=swTWozTxQ-E
The gang's all here for a new Christopher Guest mockumentary, including Jane Lynch, Parker Posey, Jennifer Coolidge, Fred Willard and more. Mascots which is, yup, exactly what you think it is, drops on Netflix Thursday.
What are you watching this week on TV?