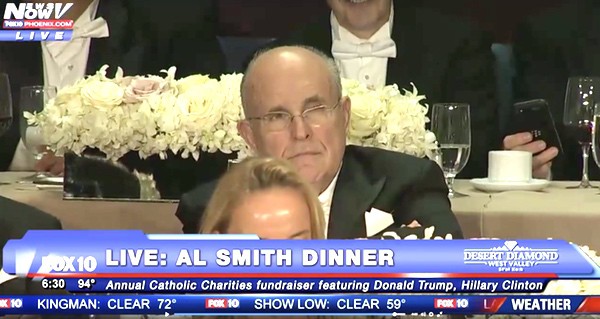 Hillary Clinton had some biting moments at the Alfred E. Smith Memorial Foundation Dinner in New York, though, unlike her opponent, they received laughs rather than boos.
The dinner is an annual white tie gala benefiting Catholic charities at which tradition dictates that presidential candidates poke fun at one another in a humorous and jovial manner during their speeches.
One particularly scathing joke launched by Clinton was aimed at Giuliani for his support of Donald Trump. You may recall that earlier this month Giuliani appeared at a Trump rally in Florida and attacked Clinton, saying she had lied when she said she was at the World Trade Center shortly after 9/11, until a photo showed up showing the two of them together.
So it was Clinton's turn to get some payback.
Said Clinton, looking around the room:
"We've got the honorable Chuck Schumer, the honorable Andrew Cuomo, the honorable Mike Bloomberg, the honorable Bill de Blasio, the honorable David Dinkins, and so many other elected officials – and we have Rudy Giuliani."
She added:
:Many don't know this but Rudy actually got his start as a prosecutor going after wealthy New Yorkers who avoided paying taxes. But as the saying goes, 'if you can't beat 'em, go on FOX News and call 'em a genius.'"
Rudy was not amused.
Watch:
https://www.facebook.com/marc.love/videos/vb.1296258079/10210456062779969/
Watch Hillary's full speech as well as Trump's HERE.