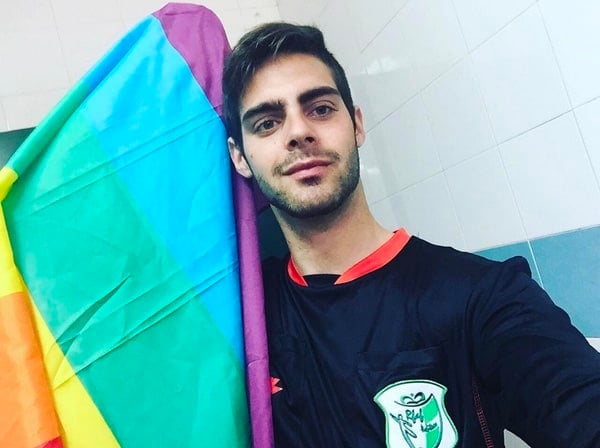 In September we reported that Spain's first openly gay football referee, Jesus Tomillero, returned to work after quitting in May due to anti-gay harassment from fans.
Unfortunately, he immediately began receiving anti-gay threats, the Guardian reported:
Jesús Tomillero, 21, was refereeing a game between CD Lasalle and Atlético Zabal in Andalusía's second division on Saturday when a Lasalle supporter told him to "get off for being gay" after he awarded a penalty to Zabal.
The game was stopped and the man was removed but he managed to get back in and shout "You f**king faggot" at Tomillero.
Following the match – his second since returning – the referee started getting death threats on social media. "You son of a bitch. You messed with the club. We'll kill you with AIDS, you faggot," read one.
Another message, featuring a photograph of a handgun and bullets, said: "Not long left to live, faggot."
Tomillero said that the threats began after he posted about the match on social media.
Now, Barcelona FC is stepping up to support him, ESPN reports:
Spain's first openly gay referee will be invited to attend a Barcelona game in the coming weeks as the Catalan club look to lead the fight against anti-gay behaviour in football.
Barca confirmed to ESPN FC that they have already been in touch with Jesus Tomillero, but they are yet to pencil in a date for him to visit Camp Nou. They anticipate it will be sooner rather than later, though.
As well as the presence of Tomillero, Barca also plan to organise other acts to take a stand against lesbian, gay, bisexual and transgender (LGBT) prejudice in sport, although the details of what exactly that will entail will be confirmed closer to the time.
https://www.instagram.com/p/BKxrHs8AVJG/?taken-by=jesustomillero