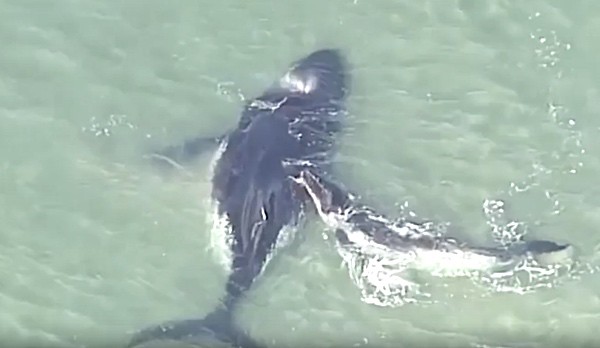 Stunning footage has emerged of a humpback whale calf trying to free its mother who had become stranded on a sand bar southwest of Brisbane, Australia.
About 40 minutes after getting stuck, the whale was able to dislodge herself. Queensland Parks and Wildlife Services (QPWS) personnel were despatched to help the pair and planned to stabilise them until a team from Sea World, further along the coast, could arrive to help free them. But incoming tides and the efforts of the young whale helped the mother get off the sandbank before they arrived.
This sort of empathetic or helpful behavior is not uncommon amongst whales. Earlier this summer, a pair of humpback whales came to the rescue of a sealwho was being pursued by orca whales. They've even saved humans from drowning. And in one fascinating incident from 2013, a group of sperm whales adopted a dolphin with a spine deformity.
 Watch:
https://www.youtube.com/watch?v=TyxJbmoVJbc