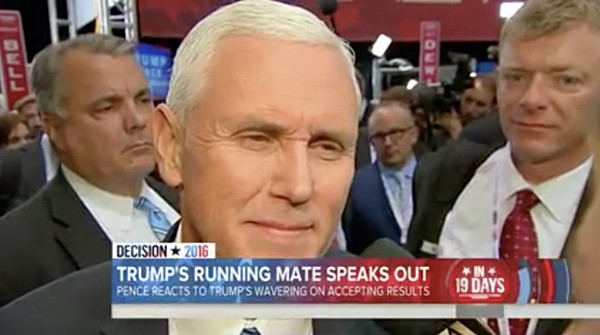 Donald Trump's running mate Mike Pence was asked about Trump's statement in the final debate that he might not accept the results of the election.
Quipped Trump: "What I'm saying is I'll tell you at the time. I'll keep you in suspense, okay?"
Trump's remarks were widely denounced as un-American and a threat to democracy.
Pence responded following the debate:
"What Donald Trump said tonight, 'I'll look at it at the time.' I think he's made a point that is resonating with millions of Americans. We're going to continue to call on people all across this country to respectfully participate in the electoral process to ensure that we can all be confident in the vote.And if the vote is fair, I'm confident that we'll accept it."
Asked about Trump calling Clinton "such a nasty woman," Pence remarked:
"I think it was a pretty rough and tumble debate up there…I understand some of the tough language, frankly, that came from both of the podiums."
Watch:
And Tim Kaine:
"I think last night's Donald Trump was the real Donald Trump. That was the most shocking moment of the night….Accepting the outcome of elections and then the peaceful transfer of power is a bedrock pillar of our nation's history and something that we do and take for granted but many nations around the world they can't do it. We should not have somebody running for president who's going to pull the pillar down."
Watch: