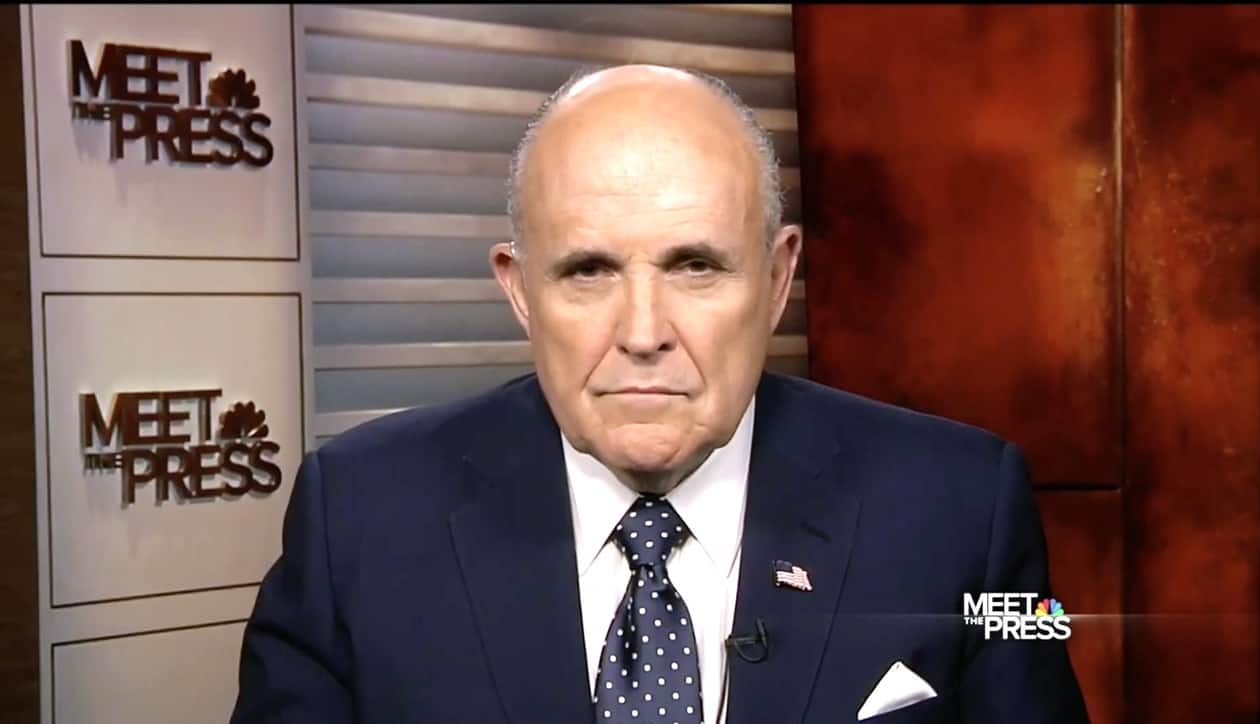 Rudy Giuliani, as the only surrogate willing to step out and defend Trump since the emergence of the tape on Friday night in which he brags about sexually assaulting women, appeared on several morning talk shows Sunday.
Giuliani told Chuck Todd on Meet the Press that there's no way Trump won't show up to the debate, and there's no way he'll drop out of the race.
The interview then quickly got into a discussion of the tapes.
It's not right to say it whether you're a politician or you're not," said Giuliani, after excusing Trump because he made the remarks when he wasn't running for president.
"He's bragging about making unwanted sexual advances," says Todd. "You're saying that the words are wrong. How about the actions?"
Replied Giuliani: "Well, the actions would be even worse if they were actions. Talk and action are two different things."
He then added:
"I'm not implying it was made up. I said we're talking about things that he was talking about. I don't know how much he was exaggerating; I don't know how much is true. I certainly don't know the details of it. But I do know that this is unfortunately the kind of talk that goes on among a lot of people and they shouldn't talk about this. This is wrong. He realizes that. He understands it now."
Giuliani ended the interview by previewing something he thought Trump might bring up at tonight's debate – Hillary Clinton's role as "the attacker" of women raped and sexually abused by Bill Clinton.
Said Giuliani
"I do believe there's a possibility he'll talk about Hillary Clinton's, uh, situation – if it gets to that. I don't think he prefers to do that, but I think he will."
When asked to clarify what "situation" he was referring to, Giuliani added:
"What I'm talking about are the things that she has said and that have been reported in various books and magazines and other places about the women that bill Clinton raped, sexually abused and attacked. Not Bill Clinton's role – but her role as the attacker."
Watch the Meet the Press segment:
The "Hillary as attacker" line of attack is one that Trump previewed himself in his "apology" video on Saturday morning, saying, "Bill Clinton has actually abused women and Hillary has bullied, attacked, shamed and intimidated his victims. We will discuss this more in the coming days."
Giuliani also tried to play Trump's remarks off as "exaggeration" on This Week with George Stephanopoulos:
Rudy Giuliani on whether Trump was describing sexual assault on 2005 audio: "That's what he was talking about" https://t.co/0xrtllD7rt

— This Week (@ThisWeekABC) October 9, 2016
And on CNN's State of the Union, Giuliani again floated the idea of "gosh almighty there were plenty of things…particularly Hillary Clinton attacking the women who Bill Clinton sexually assaulted, sexually abused, and she was the leader of the attack against them…"
In response to Giuliani @Jaketapper: "I have never said that. I have never done that. I am happy to throw a stone." https://t.co/wmbrlSRMtR

— State of the Union (@CNNSotu) October 9, 2016