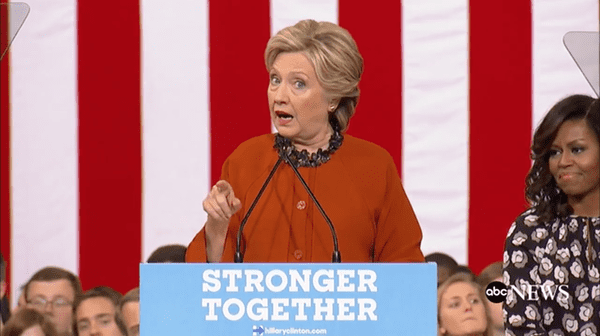 Campaigning with First Lady Michelle Obama in North Carolina on Tuesday, Hillary Clinton urged voters to understand that marriage equality and LGBT rights are at stake in this election.
Clinton called on North Carolinians to un-seat Governor Pat McCrory and elect in his stead Attorney General Roy Cooper. McCrory infamous signed North Carolina' anti-LGBT 'bathroom bill' into law and continues to defend it despite widespread condemnation from civil rights groups and the business community. Cooper on the other hand has vowed to repeal HB 2 if elected.
Said Clinton, "Let's be sure to elect Roy Cooper the next governor of North Carolina."
"He will repeal HB2," Clinton added, "Because he knows that discrimination is wrong. it's bad for business and it's against North Carolina's values."
Clinton also made a veiled reference to Donald Trump's support of anti-equality justices and his coziness with the anti-LGBT religious right.
"Marriage equality is at stake too" in this election, Clinton said.
"If you believe everyone deserves to be treated equally in America no matter who they are or who they love, then you've got to turn out and vote in this election," she insisted.
Watch below. The video begins with Clinton's remarks about Cooper and you can watch her comments on marriage equality at the 43:32 mark.