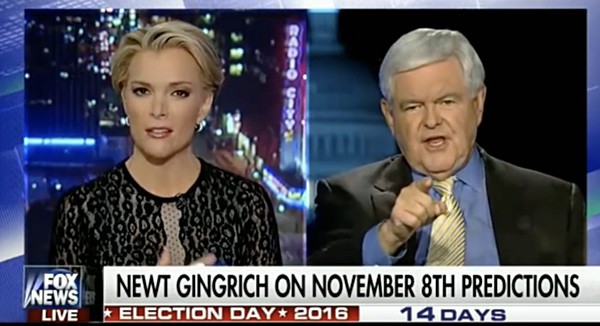 Former House Speaker and Trump surrogate Newt Gingrich lost it during an interview with Megyn Kelly over the current state of the election, accusing Kelly of devoting too much time to the Donald Trump sexual abuse stories.
"I think that your defensiveness on this may speak volumes sir," Kelly replied to Gingrich.
When he tries to interrupt her, she hammered him down:
"Let me make my point and then I'll give you the floor. What I said was if Trump is a sexual predator then it is a big story. And what we saw on that tape was Trump himself saying that he likes to grab women by the genitals and kiss them against their will. That's what we saw. And then we saw 10 women come forward after he denied actually doing it at a debate to say "that was untrue."…He denies it all. Which is his right. We don't know what the truth is. My point to you is as a media story, we don't get to say the 10 women are lying. We have to cover that story, sir."
Gingrich melted down, pointing his finger at Kelly: "You are fascinated with sex and you don't care about public policy."
"Mr. Speaker, I am not fascinated by sex" she replied. "But I am fascinated by the protection of women and understanding what we're getting in the oval office."
Replied Gingrich: "And therefore we're going to send Bill Clinton back to the East Wing because you are concerned about sexual predators."
Gingrich then demanded Kelly say "Bill Clinton sexual predator" on the air before Kelly shut it down.
"We're going to have to leave it at that, and you can take your anger issues and spend some time working on them Mr. Speaker."
Watch:
https://www.youtube.com/watch?v=oMlC0-Ut8Ng